Can I bring my electronic medical devices and food for medication?
Visitors who need to bring electronic medical devices and/or medically necessary food/beverages into the exhibition should notify invigilators at the exhibition entrances.

You may be asked to transfer your belongings to a clear plastic bag available at the entrance, should your bag exceed the maximum size permitted in the exhibition (33 × 23 × 10 cm).
Is there special assistance available during visits and walks?
Visitors who require special assistance during exhibition visits and/or walks are invited to notify in advance the Visitor Service and/or the member of the Chorus conducting the walk.

Visitors with visual impairments who would like to participate in a walk are invited to notify the Visitor Service before booking so they can be accompanied by an especially trained Chorus member.
How do I move to and between venues and what transport options are available?
Public transport routes connect exhibition venues within the city and Kassel Airport. Most trams and busses are accessible for wheelchairs with DIN specifications. For further information on public transport services in Kassel, please see here.

Most venues are within an approximate distance of 10–15 minutes by wheelchair. As the city of Kassel is hilly, many of the routes connecting the venues do have slight, others moderate, inclines. You may benefit from assistance pushing your wheelchair or from the use of an electric wheelchair.

In the inner part of the city, many bus and tram stops have an orientation system for the visually impaired. More detailed information about the system can be found here.

Please find information on inclines, weather shelters, and places to rest on this map.
Where do I find accessible toilets?
documenta 14 has identified accessible toilets using a special signage system.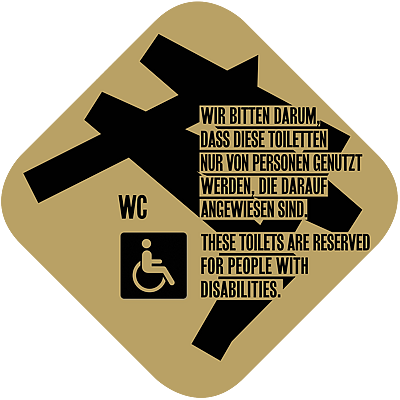 Are all exhibition venues accessible?
Most documenta 14 venues are accessible. We are happy to recommend specific routes that meet visitors' particular requirements. Please ask our Visitor Service for advice.
Although documenta 14 has made an effort to create accessibility throughout the exhibition, we are aware of, and apologize for, the fact that there are some areas that are not fully accessible. However, if you encounter such a situation, please ask our exhibition attendants for help. They are happy to offer assistance and make your visit as barrier-free and pleasant as possible.
Venues that are not accessible or only partly accessible are labeled on this map.
Please note that only wheelchairs that correspond to the DIN norm have access to the exhibition venues. If you arrive at a venue with an electric scooter or a similar vehicle, you are kindly requested to switch to a manually operated wheelchair, if available. Thank you for your understanding.
Do venues have elecators?
Most public documenta 14 venues have designated accessible elevators. These are identified by a special signage system.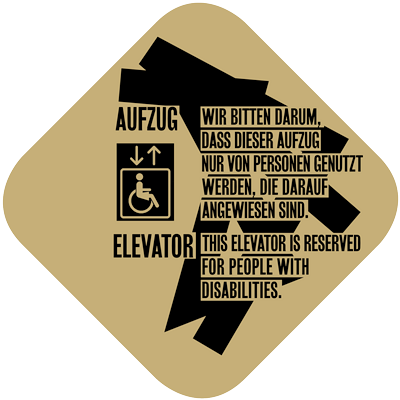 Are there wheelchairs or rollators available at exhibition venues?
A number of wheelchairs and rollators are made available through documenta 14. These rotate between exhibition venues. Visitors are invited to notify the Visitor Service prior to their visit should they require this kind of service.
Do I receive a discount on tickets?
Students, apprentices, recipients of basic social benefits, volunteers, refugees, and severely disabled visitors receive a discount on tickets upon presentation of the corresponding identification. Severely disabled visitors who qualify for assistance may be accompanied by one aide free of charge during their visit of the exhibition. Assistance dogs are also welcome.
Is there any information for people with learning difficulties?
Please find a website in plain language here.
Who can I ask for help if my question is not answered here?
If you have a special request prior to your visit, you may contact our accessibility advisor via mail visitors [​at​] documenta.de or by phone: 0049 561 707 277 0.
Other useful information