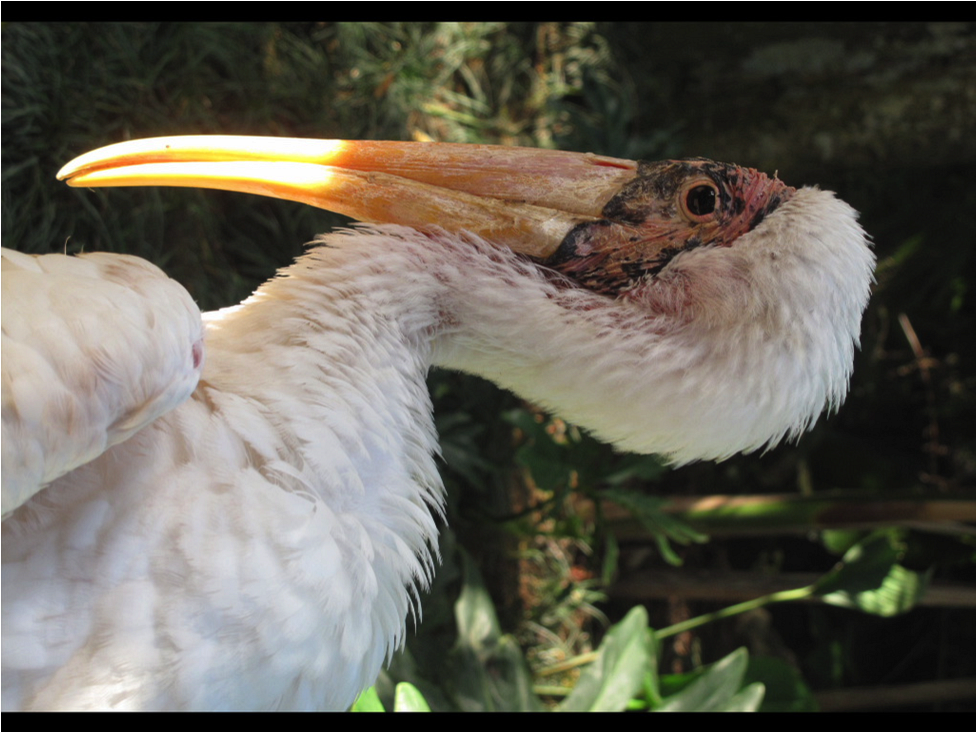 HALLUCINATION #11: PHANTOM EYE SYNDROME
The globe is removed from its orbit, the sclera and interocular contents eviscerated. A painted half shell of cryolite glass takes its place, the iris color matched to make a new set: right and left, as before. Vision turns monocular but for both stranger and subject, the illusion of stereo vision persists (ESTRELA). The stranger sees a woman with two eyes. The woman sees a stranger through two eyes. The brain feels pain where there is none, brushes away a mote of dust where there is none, assumes perspective where there is none (LUCKY DRAGONS). And then: from the peripheral vision of that phantom eye, the ghosts begin to gather.
5 pm–12 am Gallery
Rabbid Tuck by Alexandre Estrela (single-channel installation, 2017)
An installation view of a well-studied optical illusion, resulting in a monster that can only exist in the mind.


5 pm–12 am Lobby
MOS by Lucky Dragons (audio installation, ongoing, 2017)
Soundtracks, spoken introductions, audience chatter, and wild sounds are all collected, interpreted, and played back as a delayed shadow document of another sound-time throughout the boundary walls of the Greek Film Archive.

Phantom Orbits by Peter Burr (video, ongoing, 2017)
A series of digital sketches in which ghost bodies melt into darkness and spirit selves radiate in all directions.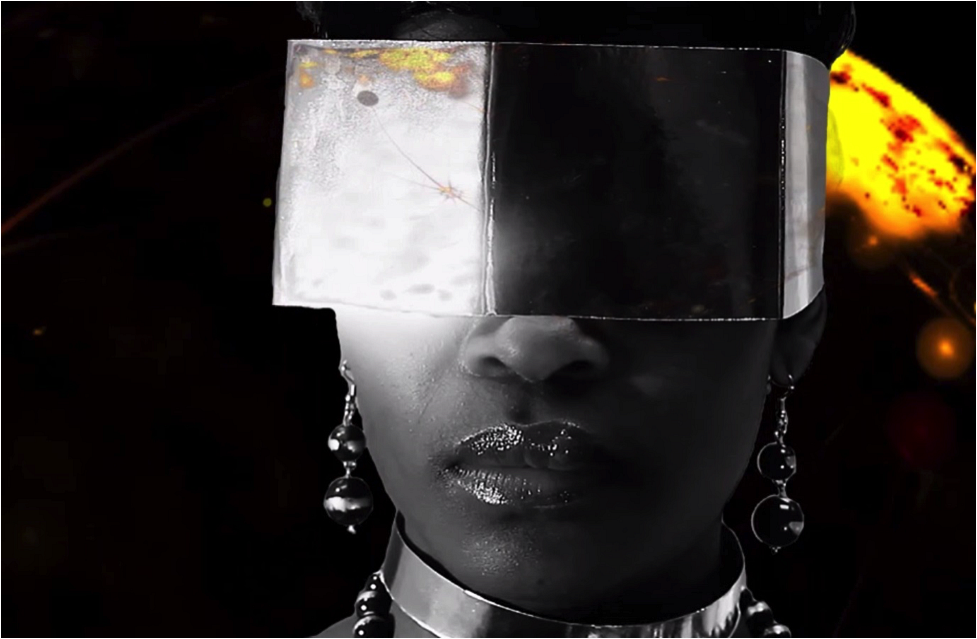 HALLUCINATION #12: THE CONFUSIONAL STATE
From Ancient Greek "ὄνειρος" (oneiros, "dream") and "φρήν" (phrḗn, "mind") comes a question: what is future but the dream of time? Is future a mission written in our DNA (BEKOLO)? Is it a disease called bad luck, is it a borderlands city with a shuttered gate to the past, it is a confusional state? Is future an endless projection, a delusion of pixels, a vision of then-now-to-be in triplicate (TAKASHI)? In our perpetual sleep-deprived and/or drug-addled state, the key to the future is getting lost in the present (OTTINGER / BALSOM).
5–8 pm Cinema 1
Time / Travel: Ulrike Ottinger and Erika Balsom (50 min., talk)
A conversation about temporality, topography, and teleportation (?) between a revered, remarkable, and transgressive "documentary" filmmaker and a truly inspirational film scholar.

Naked Reality by Jean-Pierre Bekolo (65 min., DCP, 2016)
An Afrofuturistic/sci-fi film set 150 years in the future when the human race is plagued by a terrible virus and reality is a philosophical condition.

Endless Cinema by Makino Takashi (45 min., multiple projector performance, 2017)
A sound-and-video performance that utilizes a manifold dream structure to realize cinema's potential for infinite freedom and total imagination.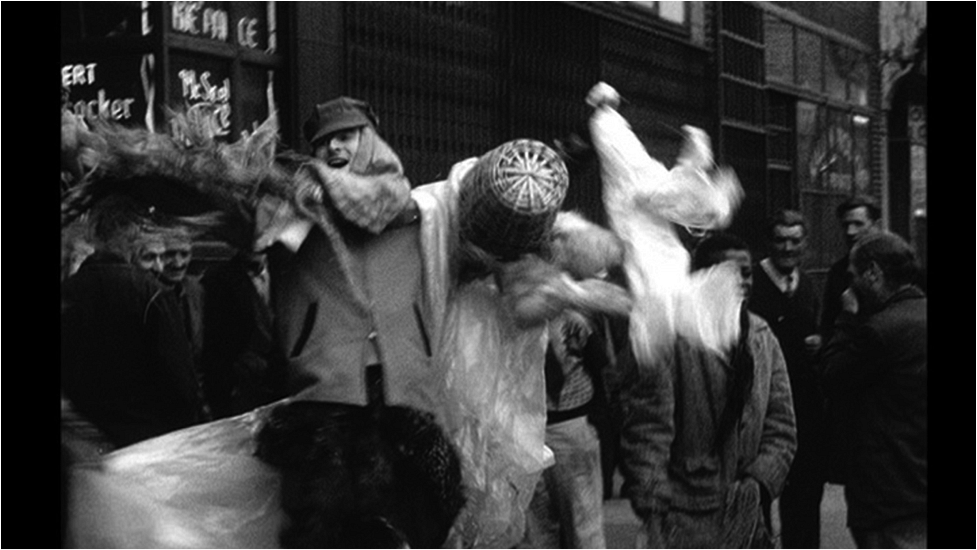 HALLUCINATION #13: PHANTOSMIA
From the waft of rose oil during a 1906 Pennsylvania newsreel, to a 1933 in-theater smell system on Broadway, to Walt Disney's olfactory ideas for Fantasia to General Electric's Smell-O-Rama in 1955, the puzzle of scent-in-cinema has been often addressed without solution. Of course, we've been barking up the wrong tree, sniffing in the corners when the answer has been above our heads all along. Look hard and you'll see scent vibrating in the image (HIRSCH)—just turn toward New York City, lock your eyes with Kolkata (LAPORE). Inhale deeply as you take in the sight of Jack Smith and a greaser in a leather jacket bouncing on a chair in the spring air (JACOBS)—feel the dust in your nose, the debris of the city gathering around you. The decay of paper piles and rusty metal. Breathe them in, those phantom smells, let them live eternal.
5–8 pm Cinema 2
Two Wrenching Departures by Ken Jacobs (90 min., video, 2006)
A rapturous kino-eulogy of Jack Smith and Bob Fleischner, pulled from the stuttering archives of New York City and time immemorial.

"In Calcutta: Modernity and its Contradictions" curated program by Shanay Jhaveri featuring Calcutta: A Doomed City by Films Division (1970), Calcutta Unedited by M.F. Husain (1972), Kolkata by Mark Lapore (2005) and La Noche Bengali by Narcisa Hirsch (1980) (90 min., screening and discussion, 16 mm and video)
Once the capital of the British Empire, Kolkata is now a city caught between colonial modernity and globalization. This program within a program presents the city-as-transition, on view via four distinct vantage points.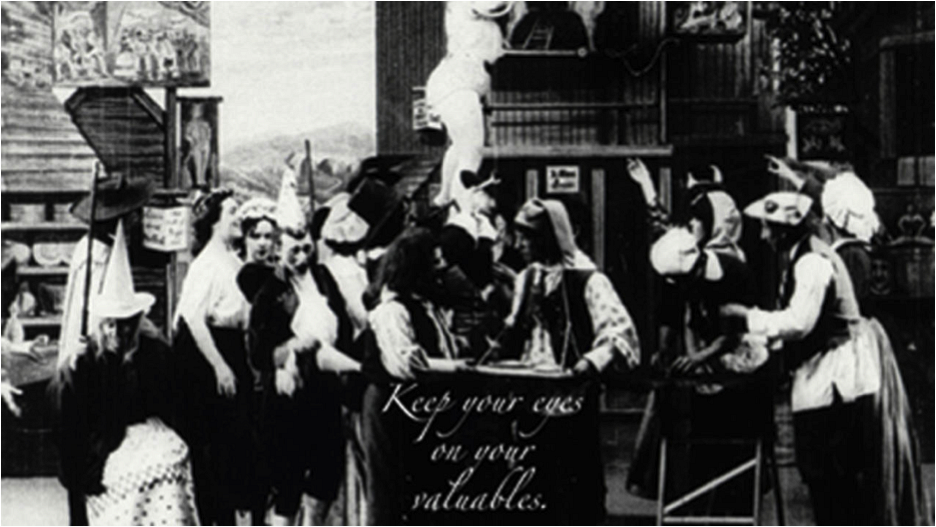 HALLUCINATION #14: CHARLES BONNET SYNDROME
In which the slow and steady reduction of our perceptual field results not in the loss of sight but in the radical expansion of vision. Framed against a flat white sky, we observe a small gathering: a boy in striped pants, a pig struggling on a leash, a woman walking on the heads of the crowd while twirling a hoop. A clown appears throwing balls into the air; a commotion ensues and the crowd rushes away (JACOBS). We observe this scene when we are six or twenty-four or ninety-six years old and, as time intervenes and our eyes grow dim, that scene returns to life again. Light is a memory burning in the darkness.
9–11 pm Cinema 1
Tom, Tom the Piper's Son by Ken Jacobs (111 min., 16 mm, 1969)
Watch in slack-jawed amazement as Ken Jacobs' increasingly vertiginous rephotography of a 1905 Biograph one-reel film plunges us deeper and deeper into that infinite abyss called cinema.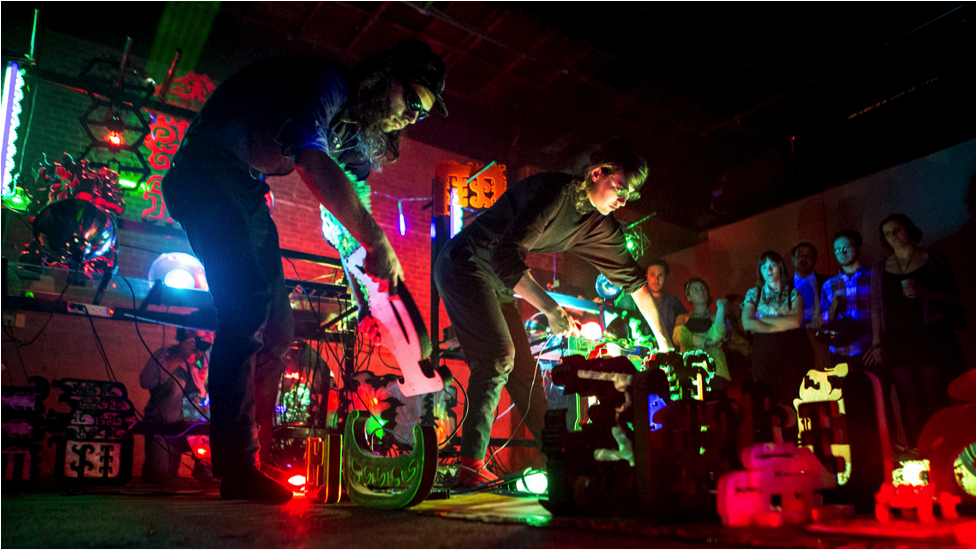 HALLUCINATION #15: ANOMALOUS EXPERIENCE
In which the unusual subjective occurrence is a thing that we objectively and collectively experience. As the new experient (the person having the experience), we learn to speak in one voice, to think with one mind (HILL). The thought circulates: ESP is fact (how else could we communicate?). And another: this is no folie à plusieurs but rather a collective consciousness, a recognition that self is inclusive of earth and sky and beyond (BURR), that intelligent beings have long since walked among us (KIWANGA), that spirit possession results in vision but rarely in disorder. Through a heavy fog of noise and laser-light (MSHR), a final truth is revealed: sound is color! Synaesthesia is real!
9–11 pm Open-Air
Breathe Breathe With With Cube Cube by Lyra Hill (15 min., 16 mm performance, 2017)
The echo of a 3D 16 mm optical illusion and live comedy trance routine, formulated to prepare the audience for a psychic journey into the Black Box (with live Greek translation).

Alone With the Moon by Peter Burr (14 min., video, 2012)
You are on a digital train and you are in a digital well and as your eyes open and close beneath a digital moon, you find yourself learning not what looking feels like (as Bridget Riley painted) but what feeling looks like.

Afrogalactica by Kapwani Kiwanga (45 min., lecture / performance, 2017)
In which a multi-disciplinary artist takes on the role of a fictional anthropologist who uses Afrofuturism as a tool to examine the past from a distinctly African perspective.

MSHR by MSHR (30 min., performance, 2017)
Light transforms into sound waves via a chaos of laser-cut glyphs, dense fog, analog synthesizers, optical sensors, green lasers, light bulbs, microphones, and seashells.

It All Depends (On You) by Lyra Hill (10 min., performance, 2017)
The second in a series of site-and-audience-specific interventions intended to create and / or release tension through direct physical manipulation.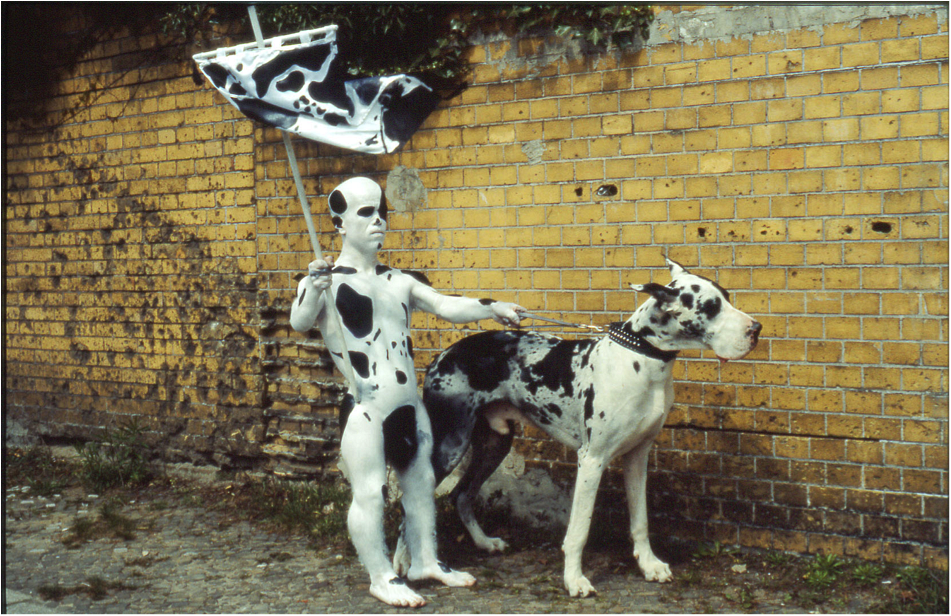 HALLUCINATION #16: FALSE AWAKENING
Darkness gives way to light as the shadows stretch outwards from the walls. This fever dream, those nocturnal visions—the nighttime has been thick with time-and-space travel, with our ecstatic world marked by constant transformation and change. Shapes shift and gender bends. A bearded lady takes our hand; we walk through the gates of Freak City. We awake with a start, rub our eyes and stretch our arms lazily behind our head. We stand and turn to face the dwarves, the Siamese twins, the hermaphrodites, ourselves. A bearded lady takes our hand; we walk through the gates of Freak City (OTTINGER). The curtain falls.
11 pm–1 am Open-Air
Freak Orlando by Ulrike Ottinger (120 min., 35mm, 1981)
Our HALLUCINATIONS come to a close via the magical offspring of Virginia Woolf's Orlando and Tod Browning's Freaks (1932), a film that (in Ottinger's words) is "a history of the world from its beginnings to our day, including the errors, the incompetence, the thirst for power, the fear, the madness, the cruelty, and the commonplace."

Peter Burr, Mark Fingerhut, and Forma, Descent (2017), computer application
A viral meditation on one of humanity's blackest hours. Taking the form of a desktop application, descent.exe gives the user a brief glimpse of a world descending into darkness—an unrelenting plague indifferent to the struggles of the user.
DOWNLOAD DESCENT.EXE (PC only)


Leo Abrahams studied composition at RAM before embarking on a varied career as a producer, guitarist, and composer, working closely with artists including Brian Eno, Jon Hopkins, and Marianne Faithful.

Sophia Brous is a creative musician and interdisciplinary performer based in New York and Melbourne. She collaborates with artists and companies internationally on new and devised works. She is resident artist at National Sawdust New York and founder and curator of Supersense: Festival of the Ecstatic.

Oliver Coates is a cellist, composer, and producer based in London. Recent releases include a solo dance record, Upstepping, on PRAH Recordings; a collaborative record, Remain Calm, with Mica Levi on Slip; and a one-hour work for string quartet, Shorelines, which premiered at Operadagen Rotterdam.
Basma Alsharif is an artist/filmmaker born in Kuwait of Palestinian origin, who was raised between France and the US. She works between cinema and installation, focusing on the human condition in relation to shifting geopolitical landscapes and natural environments. Her work has been shown in major exhibitions such as the Whitney Biennial; les Rencontres d'Arles; les Module at the Palais de Tokyo; Here and Elsewhere at the New Museum; Al Riwaq Biennial, Palestine; The Berlin Documentary Forum; the Sharjah Biennial; and Manifesta 8. She received a jury prize at the Sharjah Biennial 9 and was awarded the Marcelino Botin Visual Arts grant. Basma is now based in Los Angeles.
Erika Balsom is a lecturer in Film Studies and Liberal Arts at King's College London. A frequent contributor to Artforum, she is the author of Exhibiting Cinema in Contemporary Art and a monograph on the distribution and circulation of artists' moving images, forthcoming from Columbia University Press in 2016. Her work has been published in numerous exhibition catalogues, books, and journals including Screen, Cinema Journal, and Afterall. She holds a PhD in Modern Culture and Media from Brown University and was a Mellon postdoctoral fellow at the University of California, Berkeley.
Jean-Pierre Obama Bekolo, born in Cameroon, is one of the most daring contemporary West African directors alive today. Bekolo provides a bridge between the old guard, the pioneers of (West) African cinema—Ousmane Sembène, Djibril-Diop Mambety, Safi Faye (all from Senegal), and Souleymane Cissé (Mali)—and a new class of gifted filmmakers—Abderrahmane Sissako (Mali), Moussa Touré (Senegal), and Mahamat Haroun Saleh (Chad), among others. His imaginative work criticizes both his country's dictatorship, as well as Western cinematic conventions, offering a fresh perspective of Africa, of cinema, and especially of African cinema.
Andrew Berardini is an American writer known for his work as a visual art critic and curator in Los Angeles. He has published articles and essays in publications such as frieze, Mousse, Fillip, Artforum, ArtReview, Art-Agenda, Paper Monument, Art in America, Public Fiction, Rolling Stone (Italy), and LA Weekly. He previously held the position of assistant editor of Semiotext(e) Press and is currently Los Angeles editor for Mousse, senior editor for Artslant, contributing editor for Momus and Art-Agenda, and cofounder of the Art Book Review. Andrew recently authored Danh Vo: Relics (Mousse, 2015) and is currently finishing another book about color. He is the father of Stella.
Peter Burr is an artist from Brooklyn, NY, USA, specializing in animation and installation. His recent work explores the concept of an endlessly mutating labyrinth and is being expanded into a video game through the support of Creative Capital and Sundance. Previously, he worked under the alias Hooliganship and in 2006 founded the video label Cartune Xprez, through which he produced live multimedia exhibitions showcasing artists working in experimental animation.
The Callas is the tip of an artistic factory producing artworks, music, films, magazines, events, and art shows, initiated by the brothers Lakis & Aris Ionas. They have performed live in churches, galleries, flats, museums, boats, mountains, toilets, and at venues and festivals such as the Liverpool Psyche Festival (Liverpool UK), The Great Escape Festival (Brighton, UK), Indigenes Festival (France), Reeperbahn Festival (Hamburg, Germany) and with bands/artists such as Thurston Moore, Lee Ranaldo, The Brian Jonestown Massacre, Ty Segall, and Grinderman. Over the last ten years Lakis & Aris Ionas have published several magazines for the Athenian underground music/art/film scene, such as Velvet and Lust, and their studio is one of the most active cultural spaces in Athens.
Ximena Cuevas is a world-renowned Mexican video and performance artist whose experimental works have with subtle irony and wit addressed matters including sexuality, everyday life, heteronormativity, beauty, popular culture, and what she describes as the "half lies" of the collective Mexican imagination. In 2011 she worked in the state of Guerrero to produce a project on sea-turtle conservation. Cuevas's videos and films have screened internationally at venues including Sundance, the Berlinale, the Guggenheim (NY and Bilbao), and the touring series Mexperimental Cinema.
Alexandre Estrela's video installations and projections configure the image as an entity that cannot be reduced to the field of representation, highlighting its possible material and physical consequences. Estrela is constantly problematizing the elements that constitute the act of seeing and the possible splitting of vision into further sensible dimensions. Some of Estrela's most notable solo exhibitions are: Roda Lume, Museum of Contemporary Art, Antwerp, Belgium (2016); Cápsulas de silencio, Museo Nacional Centro de Arte Reina Sofía, Madrid, (2015); Um homem entre quarto paredes, Pinacoteca do Estado de Sao Paulo, Sao Paulo (2013); The Sunspot Circle, The Flat Time House, London (2013); among others. Since 2007 Alexandre Estrela has directed Oporto, a program of exhibitions and projects in Lisbon, the city in which he currently lives and works.
Lyra Hill's vibrant and wide-ranging art practice includes 16 mm filmmaking, alternative comics, interdisciplinary performance, and radio. She is the the founder and organizer of Brain Frame (2011-2014), Magic Chats (2015), and Nothing Up My Sleeve (2016) and works variously as a teaching artist, emcee, priestess, auctioneer, projectionist, archivist, and martial arts instructor. She lives in Los Angeles with her partner Tyson Thurston.
Ken Jacobs is an essential figure in the history of American avant-garde film. A leader in cinematic and now digital experimentation since the late 1950s, he explores the mechanics of the moving image and the very act of viewing. Jacobs investigates the cinematic experience in its entirety, from production to projection. Whether undertaking archeological journeys to the dawn of cinema or scrutinizing the interstices of new digital technologies, Jacobs's work investigates, provokes, and draws power from the mysteries of the nature of human vision.
Shanay Jhaveri, Assistant Curator of South Asian Art, is a graduate of Brown University, and holds a PhD from the Royal College of Art. His recent exhibitions include Companionable Silences (2013) at the Palais de Tokyo and film programs for the Dhaka Art Summit, the LUX/ICA Biennial of Moving Images, and Tate Modern. His books include Western Artists and India: Creative Inspirations in Art and Design, Outsider Films on India: 1950–1990, and Chandigarh is in India. He has published widely in various art journals and is a contributing editor for Frieze Magazine. Jhaveri is a trustee of the non-profit public space Mumbai Art Room.
Started in 2008 in the shadow of the Australian state's assault on Indigenous social worlds and lands, the Karrabing Film Collective is a grassroots Indigenous-based arts and film group who use their aesthetic practices as a means of self-organization and social analysis. The collective consists of some thirty members, most of whom live on a rural Indigenous community in the Northern Territory with little to no income. Their films and artworks represent their lives, create bonds with their land, and intervene in global images of Indigeneity. Their medium is a form of survivance – a refusal to relinquish their country and a means of investigating contemporary social conditions of inequality.
Kapwani Kiwanga studied Anthropology and Comparative Religions at McGill University in Montréal before entering the Ecole Nationale Supérieure des Beaux-Arts de Paris, taking part in the program La Seine. Kiwanga carried on in the Fresnoy, Studio National d'Art Contemporain between 2007 and 2009. Recent solo exhibitions include Esker Foundation, Calgary; CLARK, Centre d'art et de diffusion, Montreal (2018); Ar/ge kunst, Kunstverein di Bolzano; Goodman Gallery, Johannesburg; Power Plant, Toronto; Stiftelsen 3,14, Bergen, Norway; Viafarina, Milan, South London Gallery (2015); Jeu de Paume (2014).
An ongoing collaboration between Los Angeles-based artists Sarah Rara and Luke Fischbeck, Lucky Dragons research forms of participation, dissent, perception, and attention in performance and public art, purposefully working toward a better understanding of existing ecologies through workshops, publications, and recordings.
MSHR is the art collective of Birch Cooper and Brenna Murphy. The duo builds and explores systems to reveal pathways toward ecstatic sensory experience. They work at the intersection of digital sculpture, analog circuitry, and ceremonial performance. Their physical projects have largely revolved around analog light-audio feedback systems built from macro arrangements of their sculptural synthesizers. On the virtual side, they weave computer-generated portraits of inter-dimensional entities and psychedelic realms. These physical and virtual pursuits inform each other deeply, unfolding a hyper shape that houses both.
The films of Ulrike Ottinger are shaped by a fascination with place, a topical and topographical curiosity that drives their wanderlust across locales both imagined and real, from the fantastically spectral Berlin of the early Freak Orlando and the nostalgia shrouded Viennese amusement park of Prater, to the vast, remote steppes of Central Asia explored in Taiga and the busy banquet halls of present-day Seoul in The Korean Wedding Chest. Ottinger's fiction films kaleidoscope a carnivalesque vision of the world, staging unpredictable encounters with a remarkably motley cast of "freak" outsiders—lovers, pirates, brigands, grafters, and their adversaries. Ottinger's documentaries, in contrast, focus insightfully on the quotidian reality of everyday people, but are no less colorful and exuberant in their spirited exploration of the playful and poetic intersection of the traditional and contemporary.
Ben Russell is a media artist and curator whose work lies at the intersection of psychedelia, phenomenology, performance, and ethnography. His films, installations, and interventions are in direct conversation with the history of the moving image, providing a time-based inquiry into trance phenomena and evoking the research of Jean Rouch and Maya Deren, among others. He is a participating artist in documenta 14.
One of the most active Japanese avant-garde filmmakers / artists working today, Makino is based in Yokohama and has created over thirty-three short films along with installations, collages, and music recordings since 1997. His work has been shown widely at film festivals, art museums, and galleries worldwide.