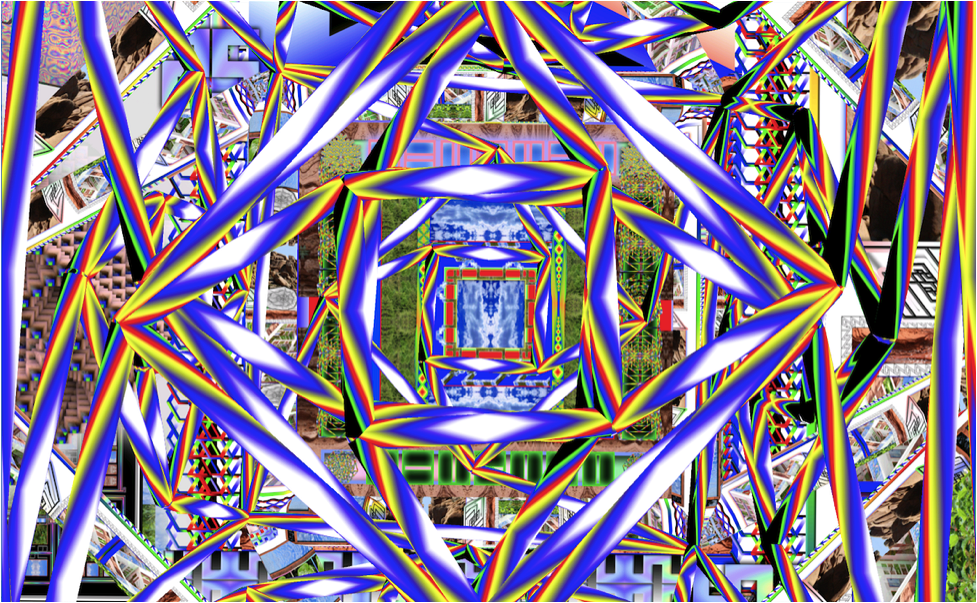 HALLUCINATION #6: SIMULATED REALITY
The image is a world is an image, easily confused with our own. Said differently, a camera is a projector is a VR headset is a vehicle and, by whatever means, the time-space that we've just entered is as real as the one we've just left behind (MSHR). Here is a room with digital walls, a latticework with more substance than that analog floor we'd been standing on all day. Our mind's eye adjusts and in our mind's ear we hear yesterday's soundtrack echoing forward into today's (LUCKY DRAGONS). Is reality a crack in the reality program? Perception is truth, hallucinated (JACOBS).
5 pm–12 am Gallery
Integrated Space Transducer by MSHR (virtual reality installation, ongoing, 2017)
A generative / interactive computer music system inside a virtual reality environment inside a physical installation.


5 pm–12 am Lobby
MOS by Lucky Dragons (audio installation, ongoing, 2017)
Soundtracks, spoken introductions, audience chatter, and wild sounds are all collected, interpreted, and played back as a delayed shadow document of another sound-time throughout the boundary walls of the Greek Film Archive.

Eternalisms by Ken Jacobs (video, ongoing, 2015–17)
Monocular observations of the everyday, presented in stereoscopic vision.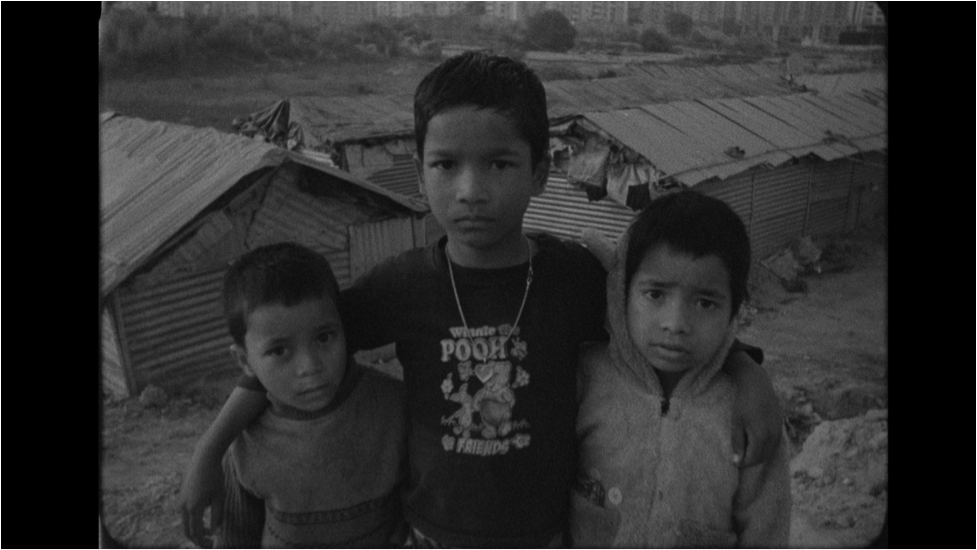 HALLUCINATION #7: AUTOSCOPY
"Air must be condensed to act as a mirror, though it often gives a reflection even uncondensed when the sight is weak. Such was the case of a man whose sight was faint and indistinct. He always saw an image in front of him and facing him as he walked. This was because his sight was reflected back to him [CUEVAS]. Its morbid condition made it so weak and delicate that the air close by acted as a mirror, just as distant and condensed air normally does, and his sight could not push it back [JHAVERI]." —Aristotle, Meteorology (384–322 BC)
5–8 pm Cinema 1
Cinepolis, the Film Capital by Ximena Cuevas (22:34 min., video, 2003)
A mash-up video essay that reflects the capitalist images of pleasure and commerce back at its source, using the enemy's tools to shatter its own reflection.

"In Post Colonial India: Perceiving Transition" curated program by Shanay Jhaveri featuring Nostalgia for the Future by Rohan Shivkumar and Avijit Mukul Kishore (2016) & TBA (150 min., screening and discussion, various formats)
As the hallucinatory experience of arriving in an unknown land has long been well explored, herein is a cinematic invitation to imagine the difficulty of leaving a colonial context to which you've become accustomed…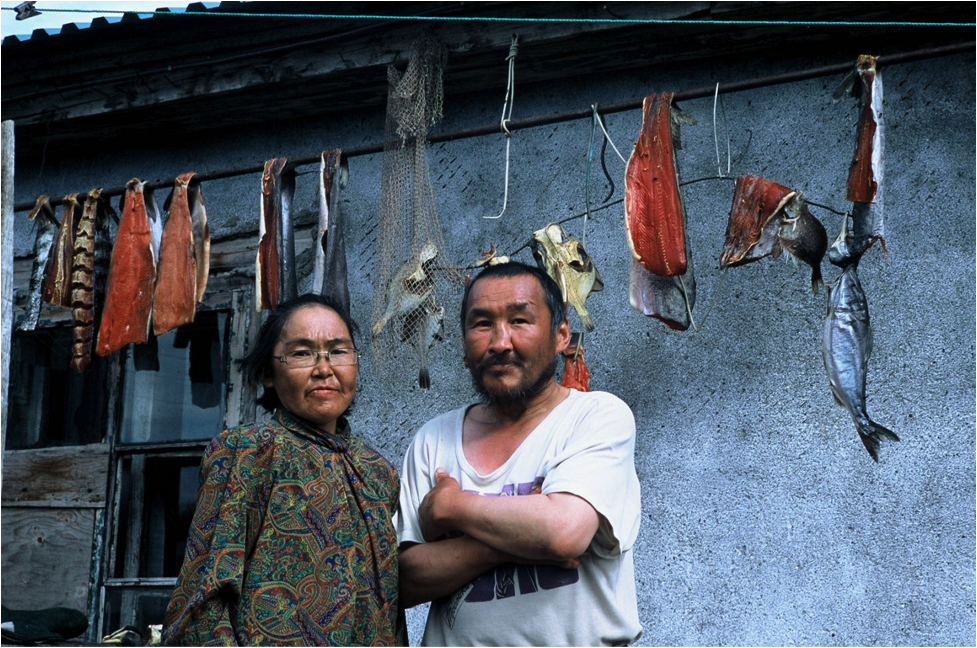 HALLUCINATION #8: MACROPSIA
In order to understand this Earth one must see rivers where there are streams, mountains where there are hills, manifold horizons where there is naught but a cliff's edge. The world is a thing to get lost in, to be overwhelmed by, to become reduced through. A black-fly swarm is a reindeer herd is an infinity—all giant antler and velvet coat, bodies looming large over your own insignificance. This is how it is with everything. Faced with island after island and peak after snowy peak, at last you see yourself as you truly are: a world in miniature (OTTINGER).
5–7:45 pm Cinema 2
Chamisso's Shadow, Chapter Two/ Part Two: Chukotka and Wrangel Island by Ulrike Ottinger (155 min., BluRay, 2016)
Variously described by Gogol, Chekhov, and Cook, these extreme Arctic lands continue to provide a radiant permafrost field of ethnographic research and log book-observation-made-actual: past becomes present becomes a future decorated by folk dance and radioactive reindeer hide.


9 pm–12 am Cinema 1
Chamisso's Shadow, Chapter Three: Kamtschatka and Bering-Island by Ulrike Ottinger (174 min., DCP, 2016)
In which our shadows return and the pleasures of the voyage, which has long since been called cinema, reach their apparent end.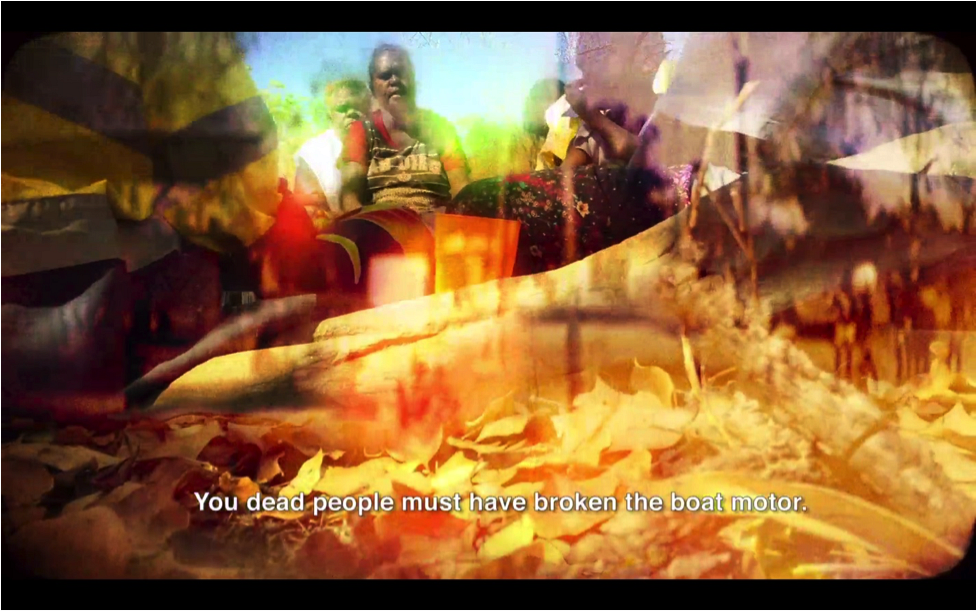 HALLUCINATION #9: THE DREAMFISH
Known in various waters as "the fish that inebriates," "the chief of ghosts" (ABRAHAMSxBROUSxCOATES), and "the fish that makes dreams," sarpa salpa is a species of sea bream found in the Mediterranean, off the coast of Spain and along the western and southern coasts of Africa. It is recognizable both by the golden stripes that run down the length of its body and by the hallucinations it can cause when eaten (HOLTHUIS). Consumed during the Roman Empire for "recreational purposes" and in Polynesian communities in the Hawaiian, Norfolk, and Gilbert Islands for ceremonial purposes (KERRABING), sarpa salpa was also responsible for the visions of giant screaming (HILL) arthropods around the car of a disoriented forty-year-old executive on vacation in Cannes (April 1994) (CUEVAS).
9–11 pm Open-Air
Holding Ground by Leo Abrahams x Sophia Brous x Oliver Coates (40 min., performance, 2017)
In a collaboration unique to HALLUCINATIONS, three visionary musicians join forces to create a live soundtrack for a film that isn't there.

Marsa Abu Galawa by Gerard Holthuis (13 min., 35mm, 2004)
A Red Sea flicker film unconsciously scored by the Egyptian musician Abdel Basset Hamouda.

Wutharr, Saltwater Dreams by Karrabing Film Collective (30 min., DCP, 2016)
Through a series of hypnagogic flashbacks, an Australian Aboriginal family argues about what caused their boat's motor to break down and leave them stranded out in the bush.

It All Depends (On You) by Lyra Hill (10 min., performance, 2017)
The first in a series of site-and-audience-specific interventions intended to create and / or release tension through direct physical manipulation.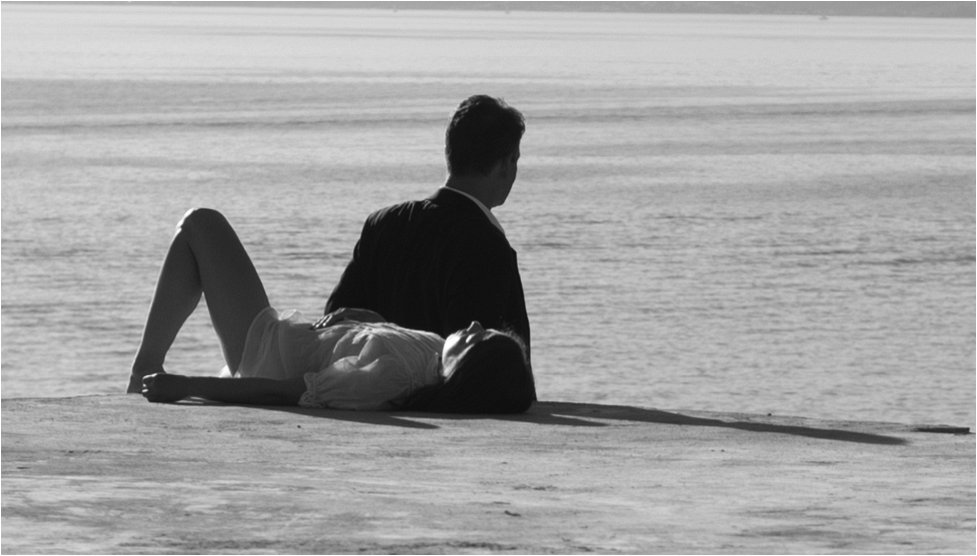 HALLUCINATION #10: THE DREAMFISH (cont'd)
Another anecdote-as-metaphor comes by way of Clifford Pickover's 2005 book Sex, Drugs, Einstein, and Elves:
"A few reporters have eaten the dream fish and described their strange effects. The most famous user is Joe Roberts, a photographer for National Geographic magazine. He broiled the dream fish in 1960. After eating the delicacy, he experienced intense hallucinations with a science-fiction theme that included futuristic vehicles, images of space exploration, and monuments marking humanity's first trips into space [IONAS]."
11 pm–1 am Open-Air
The Great Eastern by Lakis & Aris Ionas / The Callas (120 min., DCP and live performance, 2016)
An experimental narrative in which a small group waits for an ocean liner to transport them to a new utopia; a
butterfly flies between them and fucks everything up.



Leo Abrahams studied composition at RAM before embarking on a varied career as a producer, guitarist, and composer, working closely with artists including Brian Eno, Jon Hopkins, and Marianne Faithful.

Sophia Brous is a creative musician and interdisciplinary performer based in New York and Melbourne. She collaborates with artists and companies internationally on new and devised works. She is resident artist at National Sawdust New York and founder and curator of Supersense: Festival of the Ecstatic.

Oliver Coates is a cellist, composer, and producer based in London. Recent releases include a solo dance record, Upstepping, on PRAH Recordings; a collaborative record, Remain Calm, with Mica Levi on Slip; and a one-hour work for string quartet, Shorelines, which premiered at Operadagen Rotterdam.
Basma Alsharif is an artist/filmmaker born in Kuwait of Palestinian origin, who was raised between France and the US. She works between cinema and installation, focusing on the human condition in relation to shifting geopolitical landscapes and natural environments. Her work has been shown in major exhibitions such as the Whitney Biennial; les Rencontres d'Arles; les Module at the Palais de Tokyo; Here and Elsewhere at the New Museum; Al Riwaq Biennial, Palestine; The Berlin Documentary Forum; the Sharjah Biennial; and Manifesta 8. She received a jury prize at the Sharjah Biennial 9 and was awarded the Marcelino Botin Visual Arts grant. Basma is now based in Los Angeles.
Erika Balsom is a lecturer in Film Studies and Liberal Arts at King's College London. A frequent contributor to Artforum, she is the author of Exhibiting Cinema in Contemporary Art and a monograph on the distribution and circulation of artists' moving images, forthcoming from Columbia University Press in 2016. Her work has been published in numerous exhibition catalogues, books, and journals including Screen, Cinema Journal, and Afterall. She holds a PhD in Modern Culture and Media from Brown University and was a Mellon postdoctoral fellow at the University of California, Berkeley.
Jean-Pierre Obama Bekolo, born in Cameroon, is one of the most daring contemporary West African directors alive today. Bekolo provides a bridge between the old guard, the pioneers of (West) African cinema—Ousmane Sembène, Djibril-Diop Mambety, Safi Faye (all from Senegal), and Souleymane Cissé (Mali)—and a new class of gifted filmmakers—Abderrahmane Sissako (Mali), Moussa Touré (Senegal), and Mahamat Haroun Saleh (Chad), among others. His imaginative work criticizes both his country's dictatorship, as well as Western cinematic conventions, offering a fresh perspective of Africa, of cinema, and especially of African cinema.
Andrew Berardini is an American writer known for his work as a visual art critic and curator in Los Angeles. He has published articles and essays in publications such as frieze, Mousse, Fillip, Artforum, ArtReview, Art-Agenda, Paper Monument, Art in America, Public Fiction, Rolling Stone (Italy), and LA Weekly. He previously held the position of assistant editor of Semiotext(e) Press and is currently Los Angeles editor for Mousse, senior editor for Artslant, contributing editor for Momus and Art-Agenda, and cofounder of the Art Book Review. Andrew recently authored Danh Vo: Relics (Mousse, 2015) and is currently finishing another book about color. He is the father of Stella.
Peter Burr is an artist from Brooklyn, NY, USA, specializing in animation and installation. His recent work explores the concept of an endlessly mutating labyrinth and is being expanded into a video game through the support of Creative Capital and Sundance. Previously, he worked under the alias Hooliganship and in 2006 founded the video label Cartune Xprez, through which he produced live multimedia exhibitions showcasing artists working in experimental animation.
The Callas is the tip of an artistic factory producing artworks, music, films, magazines, events, and art shows, initiated by the brothers Lakis & Aris Ionas. They have performed live in churches, galleries, flats, museums, boats, mountains, toilets, and at venues and festivals such as the Liverpool Psyche Festival (Liverpool UK), The Great Escape Festival (Brighton, UK), Indigenes Festival (France), Reeperbahn Festival (Hamburg, Germany) and with bands/artists such as Thurston Moore, Lee Ranaldo, The Brian Jonestown Massacre, Ty Segall, and Grinderman. Over the last ten years Lakis & Aris Ionas have published several magazines for the Athenian underground music/art/film scene, such as Velvet and Lust, and their studio is one of the most active cultural spaces in Athens.
Ximena Cuevas is a world-renowned Mexican video and performance artist whose experimental works have with subtle irony and wit addressed matters including sexuality, everyday life, heteronormativity, beauty, popular culture, and what she describes as the "half lies" of the collective Mexican imagination. In 2011 she worked in the state of Guerrero to produce a project on sea-turtle conservation. Cuevas's videos and films have screened internationally at venues including Sundance, the Berlinale, the Guggenheim (NY and Bilbao), and the touring series Mexperimental Cinema.
Alexandre Estrela's video installations and projections configure the image as an entity that cannot be reduced to the field of representation, highlighting its possible material and physical consequences. Estrela is constantly problematizing the elements that constitute the act of seeing and the possible splitting of vision into further sensible dimensions. Some of Estrela's most notable solo exhibitions are: Roda Lume, Museum of Contemporary Art, Antwerp, Belgium (2016); Cápsulas de silencio, Museo Nacional Centro de Arte Reina Sofía, Madrid, (2015); Um homem entre quarto paredes, Pinacoteca do Estado de Sao Paulo, Sao Paulo (2013); The Sunspot Circle, The Flat Time House, London (2013); among others. Since 2007 Alexandre Estrela has directed Oporto, a program of exhibitions and projects in Lisbon, the city in which he currently lives and works.
Lyra Hill's vibrant and wide-ranging art practice includes 16 mm filmmaking, alternative comics, interdisciplinary performance, and radio. She is the the founder and organizer of Brain Frame (2011-2014), Magic Chats (2015), and Nothing Up My Sleeve (2016) and works variously as a teaching artist, emcee, priestess, auctioneer, projectionist, archivist, and martial arts instructor. She lives in Los Angeles with her partner Tyson Thurston.
Ken Jacobs is an essential figure in the history of American avant-garde film. A leader in cinematic and now digital experimentation since the late 1950s, he explores the mechanics of the moving image and the very act of viewing. Jacobs investigates the cinematic experience in its entirety, from production to projection. Whether undertaking archeological journeys to the dawn of cinema or scrutinizing the interstices of new digital technologies, Jacobs's work investigates, provokes, and draws power from the mysteries of the nature of human vision.
Shanay Jhaveri, Assistant Curator of South Asian Art, is a graduate of Brown University, and holds a PhD from the Royal College of Art. His recent exhibitions include Companionable Silences (2013) at the Palais de Tokyo and film programs for the Dhaka Art Summit, the LUX/ICA Biennial of Moving Images, and Tate Modern. His books include Western Artists and India: Creative Inspirations in Art and Design, Outsider Films on India: 1950–1990, and Chandigarh is in India. He has published widely in various art journals and is a contributing editor for Frieze Magazine. Jhaveri is a trustee of the non-profit public space Mumbai Art Room.
Started in 2008 in the shadow of the Australian state's assault on Indigenous social worlds and lands, the Karrabing Film Collective is a grassroots Indigenous-based arts and film group who use their aesthetic practices as a means of self-organization and social analysis. The collective consists of some thirty members, most of whom live on a rural Indigenous community in the Northern Territory with little to no income. Their films and artworks represent their lives, create bonds with their land, and intervene in global images of Indigeneity. Their medium is a form of survivance – a refusal to relinquish their country and a means of investigating contemporary social conditions of inequality.
Kapwani Kiwanga studied Anthropology and Comparative Religions at McGill University in Montréal before entering the Ecole Nationale Supérieure des Beaux-Arts de Paris, taking part in the program La Seine. Kiwanga carried on in the Fresnoy, Studio National d'Art Contemporain between 2007 and 2009. Recent solo exhibitions include Esker Foundation, Calgary; CLARK, Centre d'art et de diffusion, Montreal (2018); Ar/ge kunst, Kunstverein di Bolzano; Goodman Gallery, Johannesburg; Power Plant, Toronto; Stiftelsen 3,14, Bergen, Norway; Viafarina, Milan, South London Gallery (2015); Jeu de Paume (2014).
An ongoing collaboration between Los Angeles-based artists Sarah Rara and Luke Fischbeck, Lucky Dragons research forms of participation, dissent, perception, and attention in performance and public art, purposefully working toward a better understanding of existing ecologies through workshops, publications, and recordings.
MSHR is the art collective of Birch Cooper and Brenna Murphy. The duo builds and explores systems to reveal pathways toward ecstatic sensory experience. They work at the intersection of digital sculpture, analog circuitry, and ceremonial performance. Their physical projects have largely revolved around analog light-audio feedback systems built from macro arrangements of their sculptural synthesizers. On the virtual side, they weave computer-generated portraits of inter-dimensional entities and psychedelic realms. These physical and virtual pursuits inform each other deeply, unfolding a hyper shape that houses both.
The films of Ulrike Ottinger are shaped by a fascination with place, a topical and topographical curiosity that drives their wanderlust across locales both imagined and real, from the fantastically spectral Berlin of the early Freak Orlando and the nostalgia shrouded Viennese amusement park of Prater, to the vast, remote steppes of Central Asia explored in Taiga and the busy banquet halls of present-day Seoul in The Korean Wedding Chest. Ottinger's fiction films kaleidoscope a carnivalesque vision of the world, staging unpredictable encounters with a remarkably motley cast of "freak" outsiders—lovers, pirates, brigands, grafters, and their adversaries. Ottinger's documentaries, in contrast, focus insightfully on the quotidian reality of everyday people, but are no less colorful and exuberant in their spirited exploration of the playful and poetic intersection of the traditional and contemporary.
Ben Russell is a media artist and curator whose work lies at the intersection of psychedelia, phenomenology, performance, and ethnography. His films, installations, and interventions are in direct conversation with the history of the moving image, providing a time-based inquiry into trance phenomena and evoking the research of Jean Rouch and Maya Deren, among others. He is a participating artist in documenta 14.
One of the most active Japanese avant-garde filmmakers / artists working today, Makino is based in Yokohama and has created over thirty-three short films along with installations, collages, and music recordings since 1997. His work has been shown widely at film festivals, art museums, and galleries worldwide.