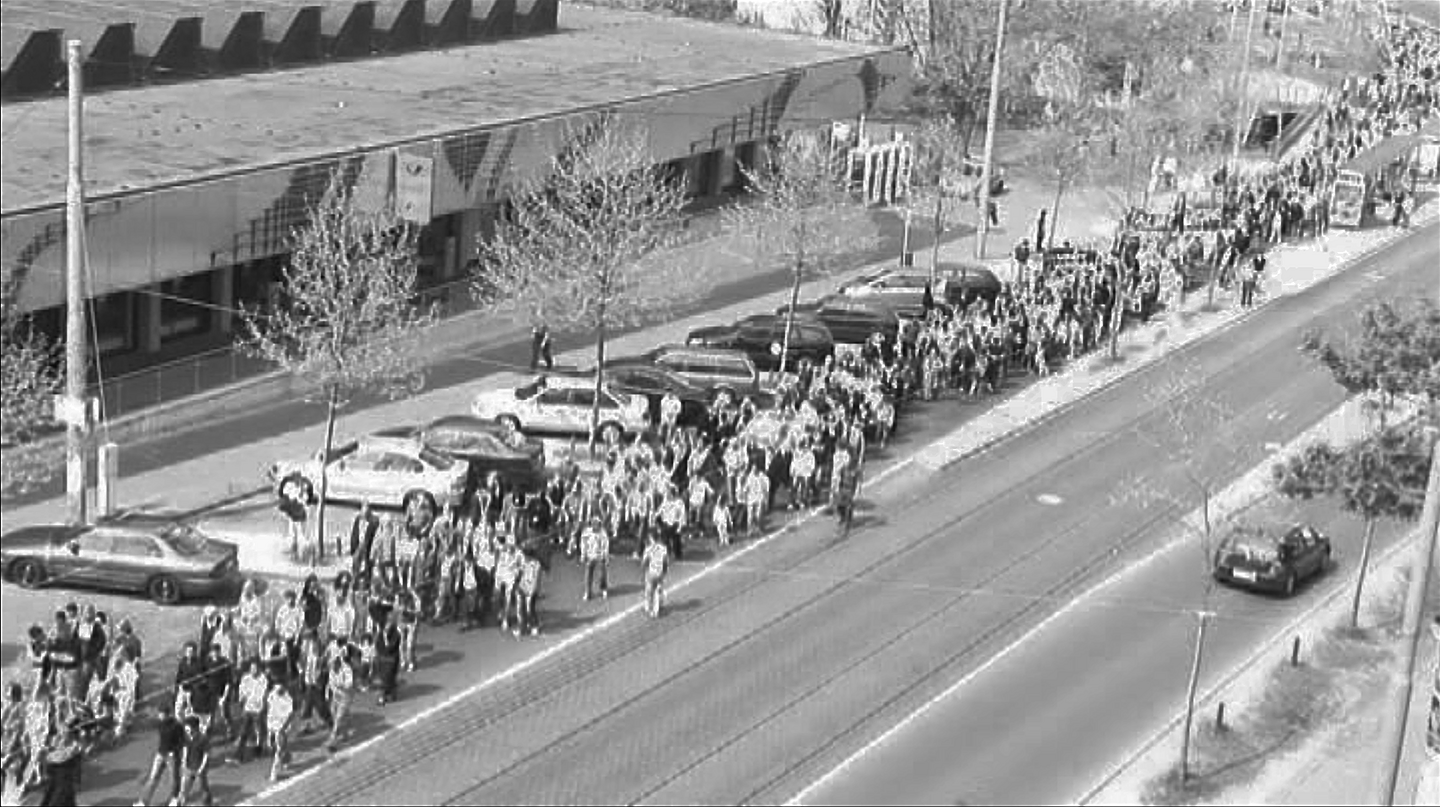 Coordinated by Ayse Gülec, Initiative 6. April, and Kassel postkolonial
On April 6, 2006, twenty-one year-old Halit Yozgat was killed in a family operated internet café in Kassel's Nordstadt. Halit became the ninth victim in a string of racially motivated murders of immigrants conducted by the Nationalsozialistischer Untergrund (NSU, or National Socialist Underground). A Hessian secret service agent, Andreas Temme, was present during Halit's murder but claimed that he neither heard the gunshots, noticed the sharp smell of gunpowder, nor saw Halit's body behind the counter when he left.
The same gun used to kill Halit in 2006 was employed in the murders of Enver Şimşek (2000 in Nuremberg), Abdurrahim Özüdoğru (2001 in Nuremberg), Süleymann Taşköprü (2001 in Hamburg), Habil Kılıç (2001 in Munich), Mehmet Turgut (2004 in Rostock), İsmail Yaşar (2005 in Nuremberg), Theodoros Boulgarides (2005 in Munich), and Mehmet Kubaşık (2006 in Dortmund). In 2007, a police officer, Michèle Kiesewetter, was killed by the NSU in Heilbronn. Excepting this last murder, the NSU's targets for assassination were those who comprised the very fabric of daily life for migrant communities in Germany. They were independent owners of small businesses: a flower shop, a locksmith's shop, restaurants, kiosks, an internet café. Indeed, in 2004 the NSU attacked Cologne's Keupstrasse with a nail bomb, the very center of a city neighborhood transformed through migration.
Initially the German police and investigating authorities focused their inquiries entirely on the victims' families and their communities. One month after Halit's murder, his family came together with other NSU victims' families to organize demonstrations in Kassel and Dortmund under the slogan "No 10th Victim." Nearly four thousand people attended. The families already understood and publically proclaimed that the series of murders were explicitly motivated by racism. Yet until the NSU's responsibility for these crimes was made public in 2011, the communities' protests were ignored by state prosecutors, media outlets, and German society at large. During the protracted and still ongoing political and legal processes that have ensued, the victims' families repeatedly articulated their experiences of being silenced by the German state and its media. The term NSU-Complex describes this composite of neo-Nazi terror and ever-increasing cycles of institutional and structural racism that run through contemporary German society.
The Society of Friends of Halit, part of the Parliament of Bodies, the documenta 14 Public Programs, understands migration as an irreversible process and aligns itself with the society of the many. The Society of Friends of Halit connects various groups and initiatives working on such issues: People's Tribunal Unravelling the NSU Complex, Initiative 6. April, Forensic Architecture, and many more activists, researchers, filmmakers, and artists. The Society is an alliance with those whose work is devoted to antiracist and antifascist research and activism between and beyond the cities of Kassel and Athens, work which has been ongoing for decades and continues today.
The Society of Friends of Halit comes together for a series of public gatherings in The Parliament of Bodies in the Rotunda of Fridericianum.
The Society is also presenting documentation of their investigtions, research, and activism at Neue Neue Galerie (Neue Hauptpost).
All events of the Society of Friends of Halit are free and open to the public.