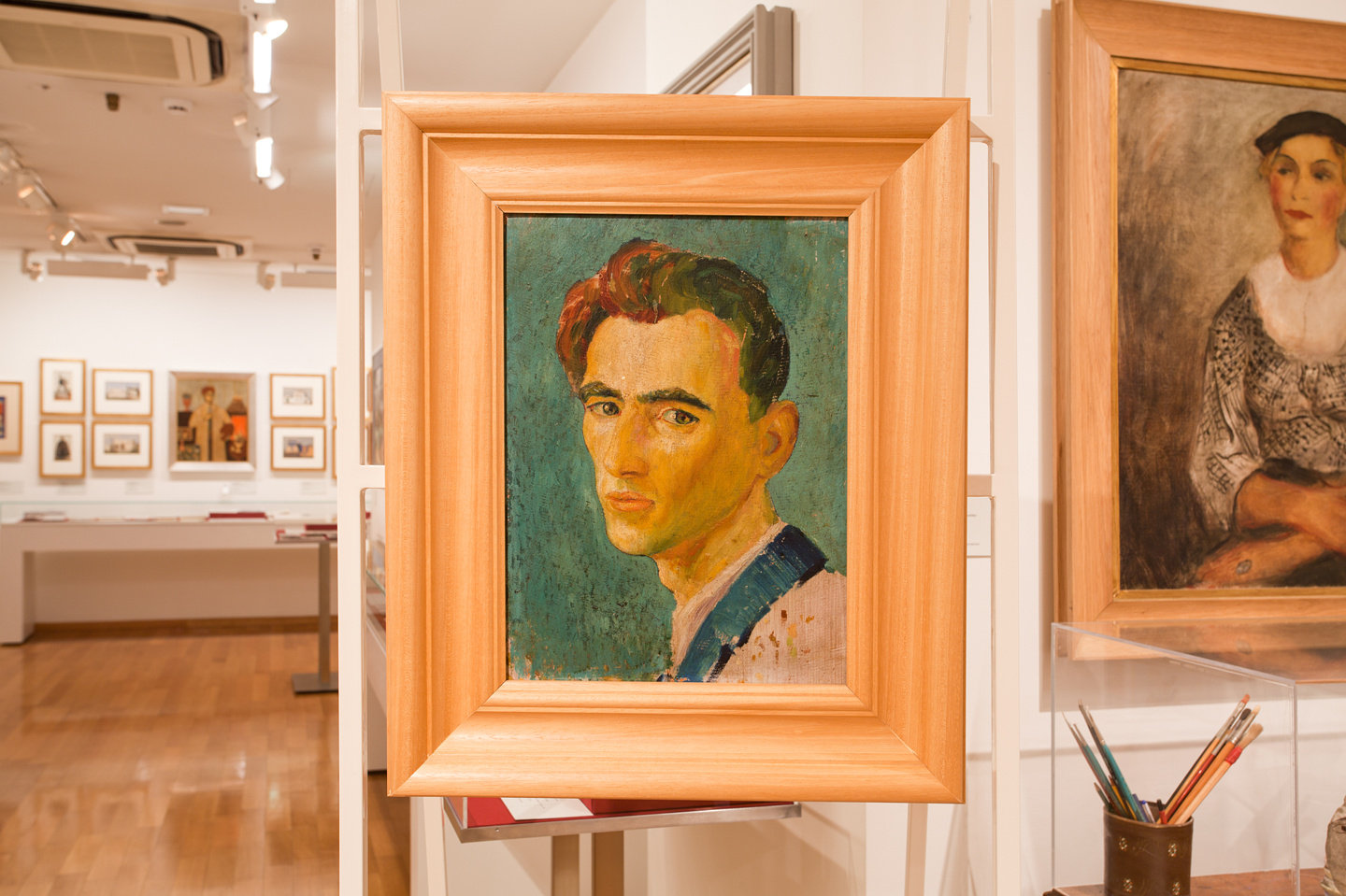 Abdurrahim Buza is one of the most respected Albanian painters whose career spanned the years before and after WWII. Buza was born in 1905 in Skopje (today Macedonia) in a family originally from Gjakova (Kosova). He lost his parents at the age of nine. Relatives helped ensure that he received his primary education in the city of Shkodra and then in Tirana and Elbasan. Later he was awarded a fellowship from the government of Zog I, King of the Albanians and went to study abroad at the Fine Art Academies in Turin and Florence and in the atelier of Galileo Chini, from 1928–­1933. After returning to Albania, Buza—together with sculptor Odhise Paskali and painter Andrea Kushi—established the first drawing school in the country in Tirana in 1933. Later he taught at the technical gymnasium "Harry Fultz" and the artistic lyceum "Jordan Misja" in Tirana, where he educated several generations of artists until his retirement in 1966.
There are a few characteristics that distinguish Buza's oeuvre, mainly related to his style of painting and to the thematic choices that permeate his work. Although a realist in essence, Buza carried with him the influence of his teacher Chini, an Italian artist, decorator, and scenographer who was involved in the Art Nouveau or "Liberty" style, as it was known in Italy. Such influence can be traced in Buza's approach to color, but also in the accentuated outlines of the figures populating his compositional tableaus. Buza operated with a rich palette that in many cases reminds us of Pierre Bonnard or impressionist color dynamics. His subjects—be they figures, portraits, self-portraits, or still lives—are often painted in a warm light in an attempt to capture the Mediterranean spectrum, characteristic of Albania.
Buza worked on somewhat neutral subjects in his paintings, focusing mainly on portraiture, and rituals and folklore (though historical figures and events are also part of his repertoire). On one hand, this choice of subjects allowed him to almost freely explore the psychological lives of the characters in his portraits or self-portraits (for example in Self-portrait (1934) or Malësori (Highlander, 1957)), without having to abide by the demands for representation set by the regime. On the other hand, his works are defined by expressive drawing in which bodies seem to always exist in an unnatural state of movement, at times even defying gravity. We encounter this feat in many compositional tableaus, including The Refugees (1957) and later works such as Azem Galica dhe luftetaret (Azem Galica and the fighters, 1976), Shqipëria vallzon (Albania is dancing, 1971), and Lojëra popullore (Traditional games, 1971). It is as if he's always trying to make the bodies speak and tell the story, not through words, minor elements or backgrounds (they're usually dark), but rather by twisting and turning and connecting them with each other, to create some kind of uninterrupted social choreography of movement.
—Edi Muka