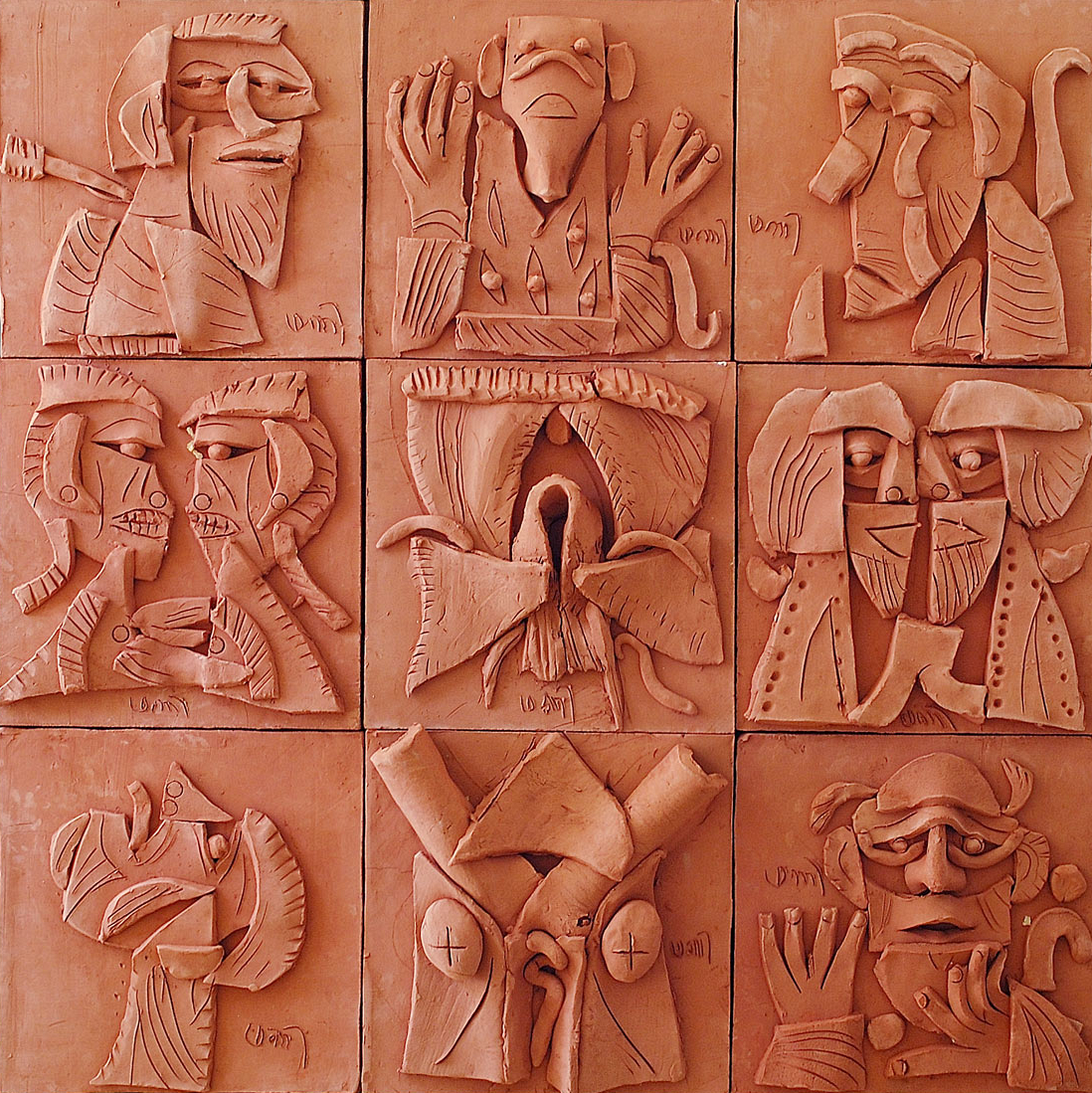 As the days pass by
And you gain in years
The past does not keep you captive.
—K. G. Subramanyan, from "A Near Vision" (Poems: Rhymes of Recall, Seagull Books, 2014)
A visionary artist and pedagogue has departed after tireless decades of teaching, making, and sharing time. It was February 9, 2016 when some documenta 14 team members and I met K. G. Subramanyan in Santiniketan. At the time, in anticipation of his ninety-third birthday, he was preparing to gift his on campus home to the Visva Bharati University in order for it to be transformed into a public archive and center for cultural research. Subramanyan had spent several years since the mid-1940s at the university's art school, Kalabhavana, first as student and then as teacher, before moving to Maharaja Sayajirao University in Baroda. Sitting on a porch, he began to deliberate on the future role of cultural institutions and the continuing quest for artistic pedagogy to remain a radical social experiment. Remarkably, he also chose to tell us about how Visva Bharati's founder, poet-philosopher Rabindranath Tagore communicated with Mahatma Gandhi at the close of his life time, and in his retelling Subramanyan's own frailty became evident. "When Gandhi visited here in 1940, Tagore was a little worried about his own health and he is supposed to have been struggling with the question of how to keep this institution going. But he didn't have the courage to talk to him about it. So, as far as we read in the books, Tagore wrote on a piece of paper and then placed it in Gandhi's hand. It said: 'This institution is like a boat that carries my life's best treasure, so try to look after it.'"
Subramanyan's being remains a testament to India's long journey from decolonial struggle into freedom, from institution-building and national modernization to the circulation of global capital and the escalation of right-wing communal hostility. In his gentle yet strong-willed composure, this depth of experiential truth resonated with a lightness of knowing.
His artistic work lies at the threshold where the power of mythology and spaces of reality become intimately bound, as emblematic life lessons and the shape-shifting character of historiography. As a muralist, he dealt with the incongruities of this world—those positive and negative surfaces that together determine existence in its exuberant dimensionality. The stories he wrote and illustrated with ink drawings as well as paper-cut collages brought us a satire and wise humor uniquely his own, mobilized to expose complex insights. When I asked if some of those literary tales weren't too menacing for young minds, Subramanyan simply chuckled and said, "These stories are for everyone, but our experience of reality is even darker."
I recall today his piece, Anatomy Lesson (2008), terracotta reliefs as sculpture-poetry shaped into a warning call to our society in collective tumult, an effort in speaking to the body-in-pieces:

Seeking to blast the bodies
Of unwarned fellow beings.

To assert a waning manhood?
To express an inner hurt?
To avenge an ancient grievance,
Or serve a faceless God
Made out of stone or timber
Or a non-material myth
Born out of countless stories…

—K. G. Subramanyan, from Two Poems, courtesy of the artist and Seagull Foundation for the Arts, Kolkata
The author and the team of documenta 14 would like to express our sincere gratitude to Naveen Kishore of the Seagull Foundation for the Arts for his generosity in facilitating visits with K.G. Subramanyan and for sharing his insights into the artist's work.