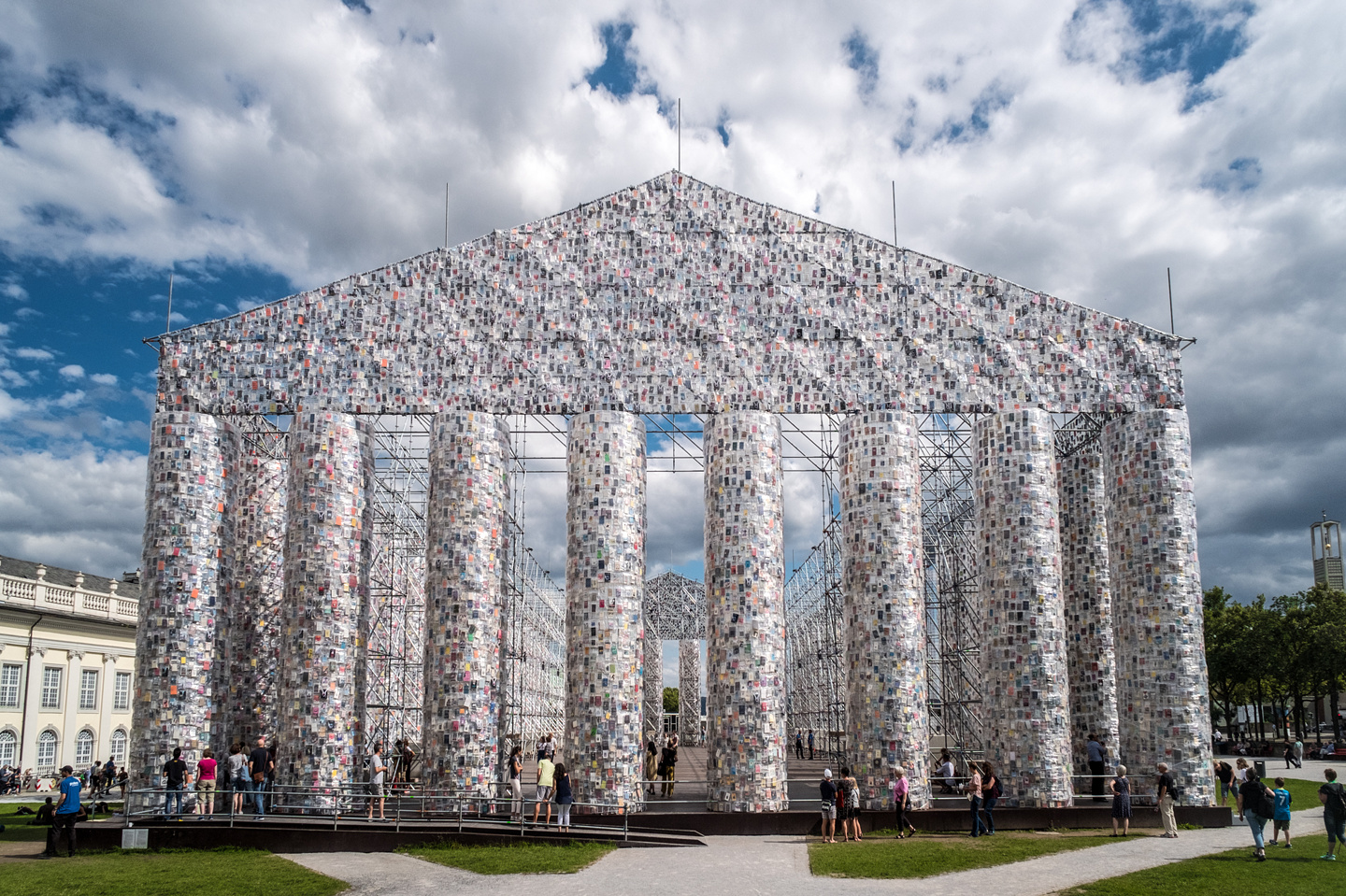 Saturday September 9, 2017
Celebration of the Accomplishment of the Collection of Forbidden Books
with Marta Minujín
12 pm, noon, Friedrichsplatz, Kassel

Sunday September 10, 2017
Start of the Redistribution of Forbidden Books
with Marta Minujín
12 pm, noon, Friedrichsplatz, Kassel

On Saturday, September 9, 2017 at 12 pm, noon, documenta 14 invites you to celebrate the accomplishment of the collection of forbidden books for The Parthenon of Books on Friedrichsplatz in Kassel in the presence of the artist Marta Minujín.
Visitors are cordially invited to participate in The Parthenon of Books open stage in any number of ways, including reading from once-banned books in numerous languages, reciting their own texts or poems, presenting silent contributions like dances or performative gestures, playing alternately music, or by simply watching and listening in the Parthenon with the artist, documenta 14 curators and team members.
Participants are kindly requested to register before 8 pm on Thursday, September 7, 2017 at events [​at​] documenta.de by providing their contact information (name, e-mail, and phone number) and details about the type and length of their contribution, which should be no longer than five minutes. documenta 14 will announce those contributions, which will be part of the parallel open stages, and the respective time slots via e-mail by Friday, September 8, 2017, at 8 pm. In case of rain the the public contributions unfortunately have to be canceled. Please note, that the different stages are not able to provide amplification.
After the celebration, the dismantling of The Parthenon of Books begins, so that all of the once forbidden books can find their way back to the public and be read again. On Sunday, September 10, 2017 at 12 pm, noon, Marta Minujín will launch the redistribution of the books to the people of Kassel and its visitors. With this act of redistribution, the artist aims to express the ephemeral and transitional status of this anti-monumental work of art. This collective public space has been shaped and defined by more than the donated books, which emphasize resistance against censorship. This singular, precarious architecture was also designed by all donors, visitors, and institutions that, through their gesture of donating, expressed the importance of the gift and the value of concern.
From September 10 to September 17, 2017, everybody is welcome to pick up a book at the redistribution counter next to The Parthenon of Books, which will be opened during the regular opening hours of the exhibition.