Taking the work of Gordon Hookey in Kassel and Tshibumba Kanda Matulu in Athens as a point of departure, this public conversation between Hookey, Frontier Imaginaries curator Vivian Ziherl, and anthropologist Johannes Fabian discusses history painting as a process to decolonize, preluded by a musical performance by violinist Ali Moraly.
Hookey's cycle of monumental paintings MURRILAND! (2015–ongoing) depicts the history of his home state of Queensland, Australia, surveying pre-colonisation to the present day, unravelling received versions of history and confronting non-Indigenous narratives.
MURRILAND! was initiated when the art and research project Frontier Imaginaries proposed that Hookey consider Tshibumba Kanda Matulu's History of Zaire (1973–74) as the anchoring reference to a history of Queensland. Working in an artistic dialogue with Tshibumba's epic cycle of 101 paintings, Hookey commenced a series of monumental ten-metre-long canvasses that seethe with vivid historic, mythic, and vernacular tales.
The event takes place as a launch of the publication Summoning Time: Painting and Politikill Transition in MURRILAND! that compiles materials surrounding the first canvas in the series, coinciding with its presentation in documenta 14. It features Hookey's source material; an essay by Aboriginal historian Michael Aird; a conversation between Gordon Hookey, Frontier Imaginaries curator Vivian Ziherl, and documenta 14 curator Hendrik Folkerts; and a dialogue between Gordon Hookey and anthropologist Johannes Fabian, who commissioned and documented Tshibumba's History of Zaire. The book is published as a collaboration between Griffith University, Frontier Imaginaries, documenta 14, and the Van Abbemuseum.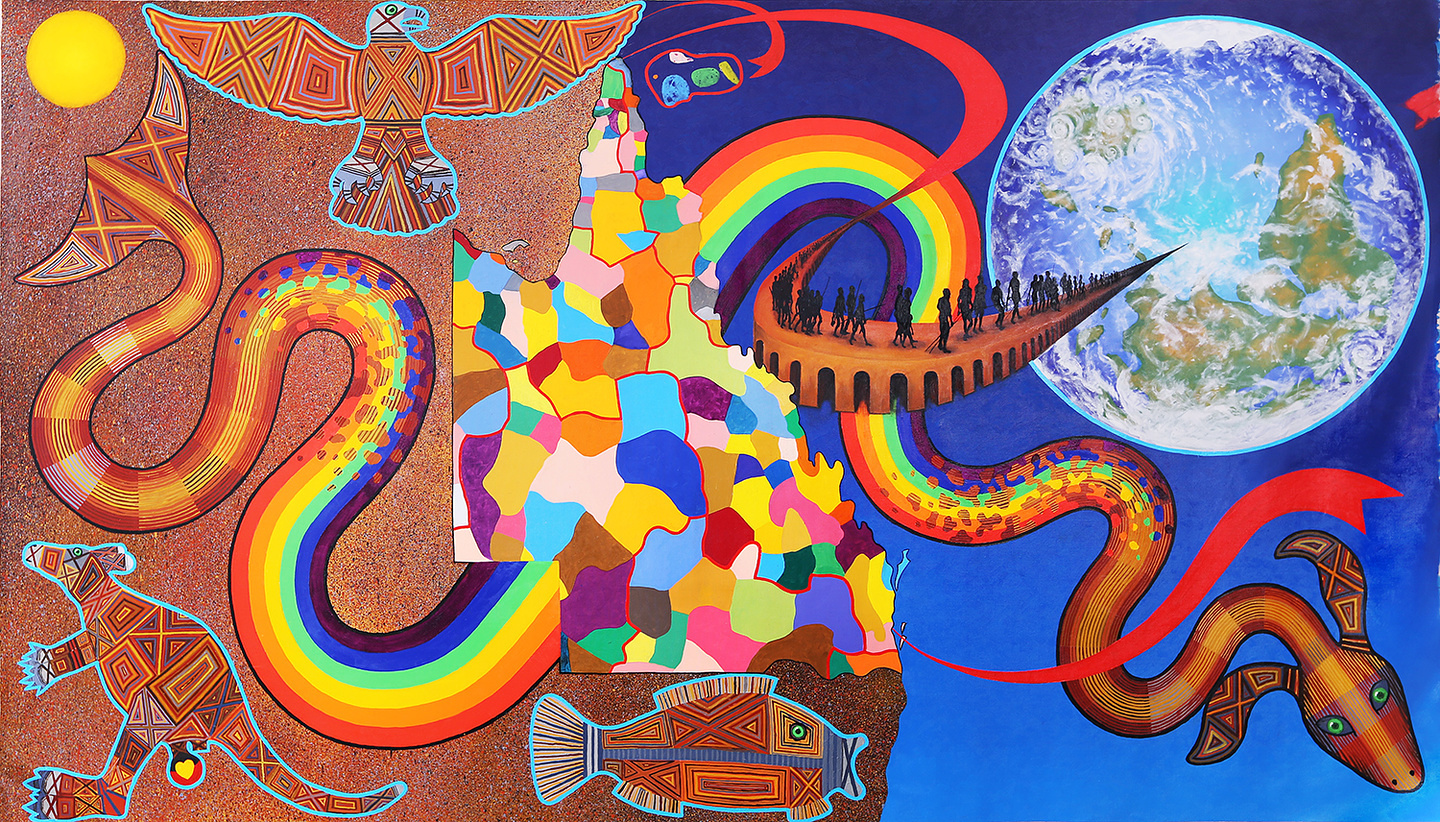 Johannes Fabian received his Ph.D. from the University of Chicago and is professor emeritus of cultural anthropology at the University of Amsterdam. Previously, he taught at Northwestern and Wesleyan Universities and at the National University of Zaire in Lubumbashi. He held numerous visiting professorships in the USA and Europe and was a fellow at, among others, the Wissenschaftskolleg zu Berlin, at the Getty Center for the History of Art and the Humanities, Santa Monica, the Stanford Humanities Center, Stanford, and the Internationales Forschungszentrum Kulturwissenschaften (IFK), Vienna. Honorary Fellow, Royal Anthropological Institute of Great Britain and Ireland (2002), Honorary Visiting Professor, University College, London (2008), Honorary Member, European Association of Social Anthropology (2009), T. H. Huxley Memorial Medal and Lecture, Royal Anthropological Institute of Great Britain and Ireland (2010), Honorary Member, African Studies Center, University of Leiden. He did research on religious movements, language, work, and popular culture in the Shaba mining region of Zaire (1966-7, 1972-4, 1985, 1986). In his theoretical and critical work, he addressed questions of epistemology and of the history of anthropology. Most recently he has been interested in questions regarding virtual ethnographic archives. His books include Time and the Other: How Anthropology Makes Its Object (1983, Third Edition, 2014), History from Below (1990), Power and Performance (1990), Language and Colonial Power (1986, 1991), Time and the Work of Anthropology (1991), Remembering the Present. Painting and Popular History in Zaire (1996), Moments of Freedom. Anthropology and Popular Culture (1998), Out of Our Minds: Reason and Madness in the Exploration of Central Africa (2000) Anthropology with an Attitude. Critical Essays (2001), Memory Against Culture. Arguments and Reminders (2007), Ethnography as Commentary. Writing from the Virtual Archive (2008), and Talk about Prayer. An Ethnographic Commentary (2015).
Hendrik Folkerts, documenta 14 Curator, was Curator of Performance, Film, and Discursive Programs at the Stedelijk Museum in Amsterdam from 2010 until 2015. He studied art history at the University of Amsterdam, specializing in contemporary art and theory, feminist practices, and performance. From 2009 to 2011, Folkerts was coordinator of the Curatorial Program at De Appel Arts Centre in Amsterdam. His texts have been published in journals and magazines such as Artforum International, South as a State of Mind, Mousse Magazine, The Exhibitionist, Metropolis M, Art & the Public Sphere and in various catalogues. Folkerts is coeditor of The Shadowfiles #3: Curatorial Education (2013), Facing Forward: Art & Theory from a Future Perspective (2014) and the journal Stedelijk Studies #3: The Place of Performance (2015). In October 2017, he will join the Art Institute of Chicago as Dittmer Curator of Modern and Contemporary Art.
Gordon Hookey was born in Cloncurry, Queensland in 1961. He currently lives and works in Brisbane. Hookey belongs to the Waanyi people and locates his art at the interface where Aboriginal and non-Aboriginal cultures converge. He explicitly attacks the establishment and implicates our current political representatives. His style and approach is distinctive in its vibrancy and best known for its biting satire of Australia's political landscape, its leaders and representatives. Hookey's work combines figurative characters, iconic symbols, bold comic-like text, and a spectrum of vibrant colors. Through this idiosyncratic visual language he has developed a unique and immediately recognizable style. Hookey's perspective comes from a divergent, activist positioning – his work challenges hierarchies, skewering the status and integrity of the 'elite', while working to bolster the position of the marginalized and oppressed. Hookey is a core member of Brisbane-based Indigenous collective proppaNOW alongside fellow artists including Richard Bell, Vernon Ah Kee and Jennifer Herd.
Ali Moraly is a violinist, composer and author. He was born in Damascus where he learned the violin under Evgeny Loginov, first at Solhi Al-Wadi Music School and later at Damascus Higher Institute of Music and Theatrical Arts. He further studied with Claire Bernard and in Roger Germser in Lyon and with Nachum Erlich at Hochschule für Musik in Karlsruhe. He currently lives in Mannheim.
Vivian Ziherl is a critic and curator from Australia, currently living and working in Amsterdam. In 2015 she founded the art and research project Frontier Imaginaries. Prior to that she worked with If I Can't Dance, I Don't Want to Be Part of Your Revolution, led the curatorial platform Landings together with Natasha Ginwala, staged performance programs at the Stedelijk Museum together with Hendrik Folkerts, and edited several books including Lip Anthology (MacMillan/Kunstverein, 2013). Vivian is a PhD candidate in curatorial studies at the Monash School of Art Design and Architecture.