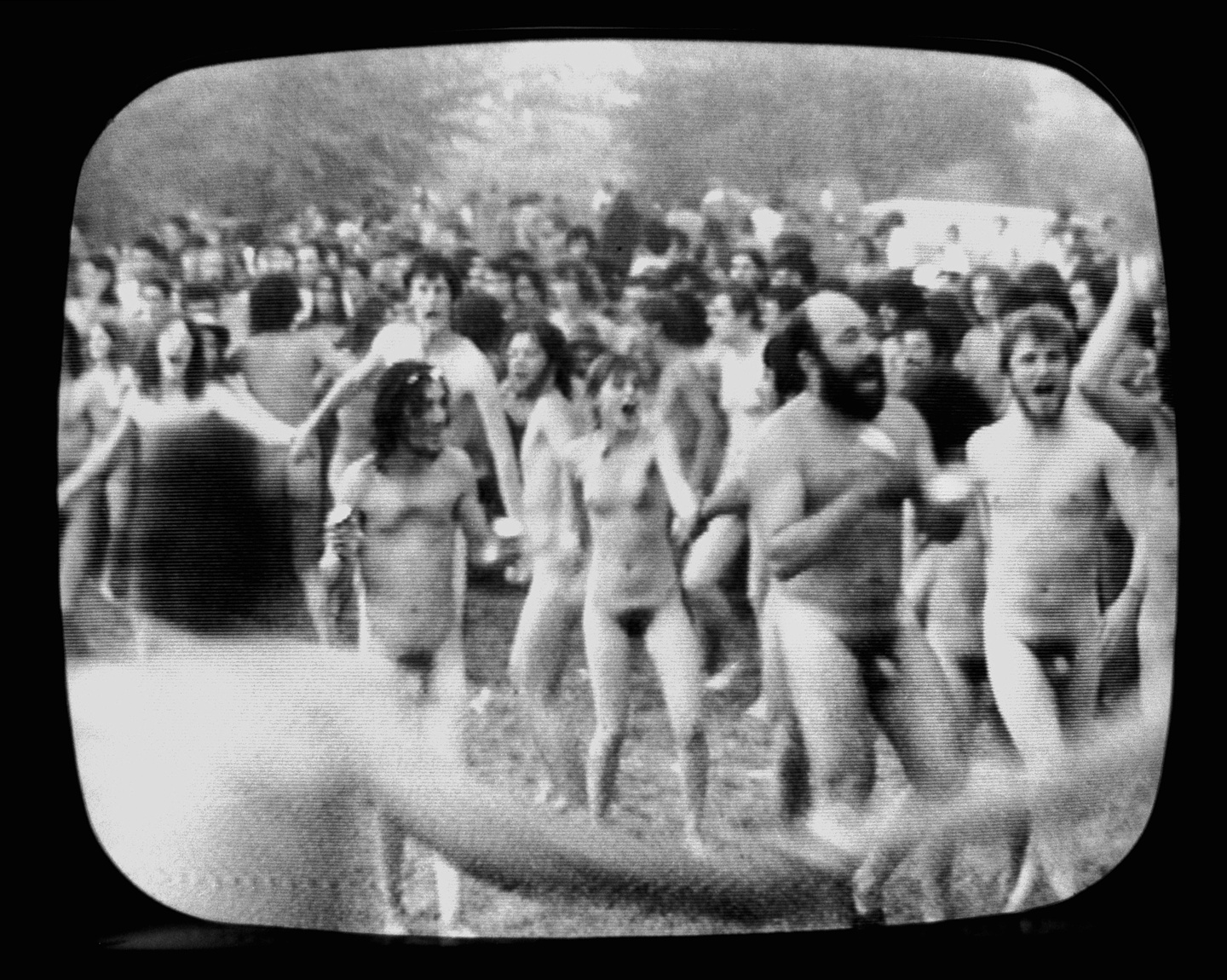 Alberto Grifi (Rome, 1938–2007), the Italian experimental film director, began his activity in the art field as a pioneer of underground cinema and emerged as a major exponent of video activism and counter-information. The relationship between Grifi and Italian state television can be described as a continuous radical conflict.
Verifica Incerta (1964–65), Gianfranco Baruchello and Alberto Grifi, Italy, 30 min.
Italian with English subtitles
Inspired by Marcel Duchamp and screened at the Guggenheim Museum in 1966, Verifica Incerta is one of the first examples of a film made entirely by using and editing found footage. It is an assemblage of extracts taken from 150,000 meters of film cuts purchased by the artists before its destruction. The mindless flow of images that build up the film and their repetitive gestures, similar to an assembly line model, anticipate the (tele)visionary approach of the past twenty years.
Festival del Proletariato giovanile al Parco Lambro (1976), Alberto Grifi, Italy, 30 min.
Italian with English subtitles
A cult video from Italian political cinema, Parco Lambro is a record of the revolt that arose at the sixth Festival of the Young Proletariat held in Parco Lambro in Milan in 1976. The function of the camera here changes according to the unpredictable nature of events: filming becomes direct involvement, catalyzing participation. By handing out the camera to people and refusing the role of director, Grifi attempts to find appropriate means of representing such a complex temporary phenomenon.
Dinni e la Normalina (La videopolizia psichiatrica contro i sedicenti nuclei di follia militante) (1977), Alberto Grifi, Italy, 27 min.
Italian with English subtitles
In Dinni e la Normalina (la videopolizia psichiatrica contro i sedicenti nuclei di follia militante), a "fantasy political" sci-fi film, state power uses a newly discovered drug called "Normalina," transforming all citizens into model white-collar workers and successful employees. However, a defective stock of Normalina provokes the emergence of clandestine groups of dissidents and terrorists. The video police use videotapes to fight against them and are about to capture one of their leaders, Dinni, who suddenly wakes up. It was all just a dream. And yet, reality isn't much sweeter.
August 24: With a presentation by Marco Scotini

Marco Scotini is an Italian curator, writer and art critic and artistic director of the FM Center for Contemporary Art in Milan.
TV Politics is a film program that revisits some of the most significant attempts to articulate a radical approach to the politics of television since the mid twentieth century. It revisits film works conceived for the purpose of rethinking what television could be, while at the same time seeking to provide a different kind of analysis of social and cultural reality.