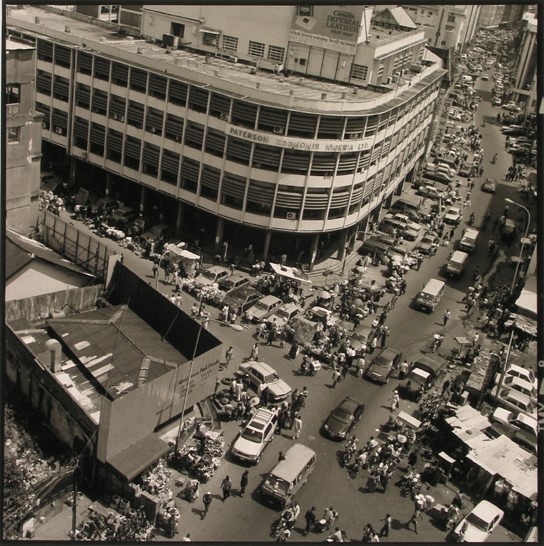 Within the framework of Elective Affinities, a collaborative program of documenta 14 and the Athens School of Fine Arts (ASFA), we invite you to a public presentation by artist Akinbode Akinbiyi. In the talk, the artist discusses examples of his work and the parallels between his personal biography and the development of his engagement with photography.
Akinbode Akinbiyi was born in Great Britain and grew up in Lagos, Nigeria, at a time when Britain was still a so-called "world power." Examining the complexity of this structure from his personal position, he says: "We were brought up to be second-class and third-class citizens in the order of things, but there were many of us who completely refused to adhere to this line of thinking. Being black and self-aware was in itself subversive and ran completely counter to the system. This was and still is a continuous process, a growing up and out, a working towards a viable and humane way of being and living. In many ways, being an artist is an extreme privilege, especially in the so-called Global South. We sing, dance, write, and visualize on the sharp precipices of so many cutting edges—acutely aware at all times of the danger of being sliced apart or falling into the abyss, a seemingly never-ending free fall."
The presentation is in English and is open to the public. Due to limited seating, the audience is encouraged to arrive early.

Akinbode Akinbiyi is an artist, photographer, curator, and writer. He was born in Oxford, UK, in 1946 and grew up in Lagos and England. He studied Literature and English in Nigeria, England, and Germany. His engagement with photography started in the mid 1970s as a self-taught practice. His photography is a window to the spirituality of everyday life. He lives and works in Berlin.

Elective Affinities is a yearlong education program within the context of the collaboration between the Athens School of Fine Art and documenta 14. The program consists of regular meetings in which documenta 14 artists and team members as well as contributors to the magazine South as a State of Mind engage with the program's students in seminars, working sessions, public talks, and readings. Together they identify various patterns, affinities, and threads running through the different elements of documenta 14. Drawing on the ideas of Oskar and Zofia Hansen, the program attempts to address education as an "open form," a space that cultivates spontaneous gestures and occurrences that "awake the desire of existence," as described in Oskar Hansen's Open Form Manifesto of 1959. Taking place at regular intervals, the encounters work from various starting points, such as the performativity of the self, borderline economies, the history of gesture, diaries, libraries and textiles, scores, living currencies, and political imagination—as well as oracular histories as representing the convergence of various forms of artistic narrative. In the elective affinities that drive chemical reactions, different elements interact and merge at different tempos. Similar attractions are intrinsic to the development of art and collective production.