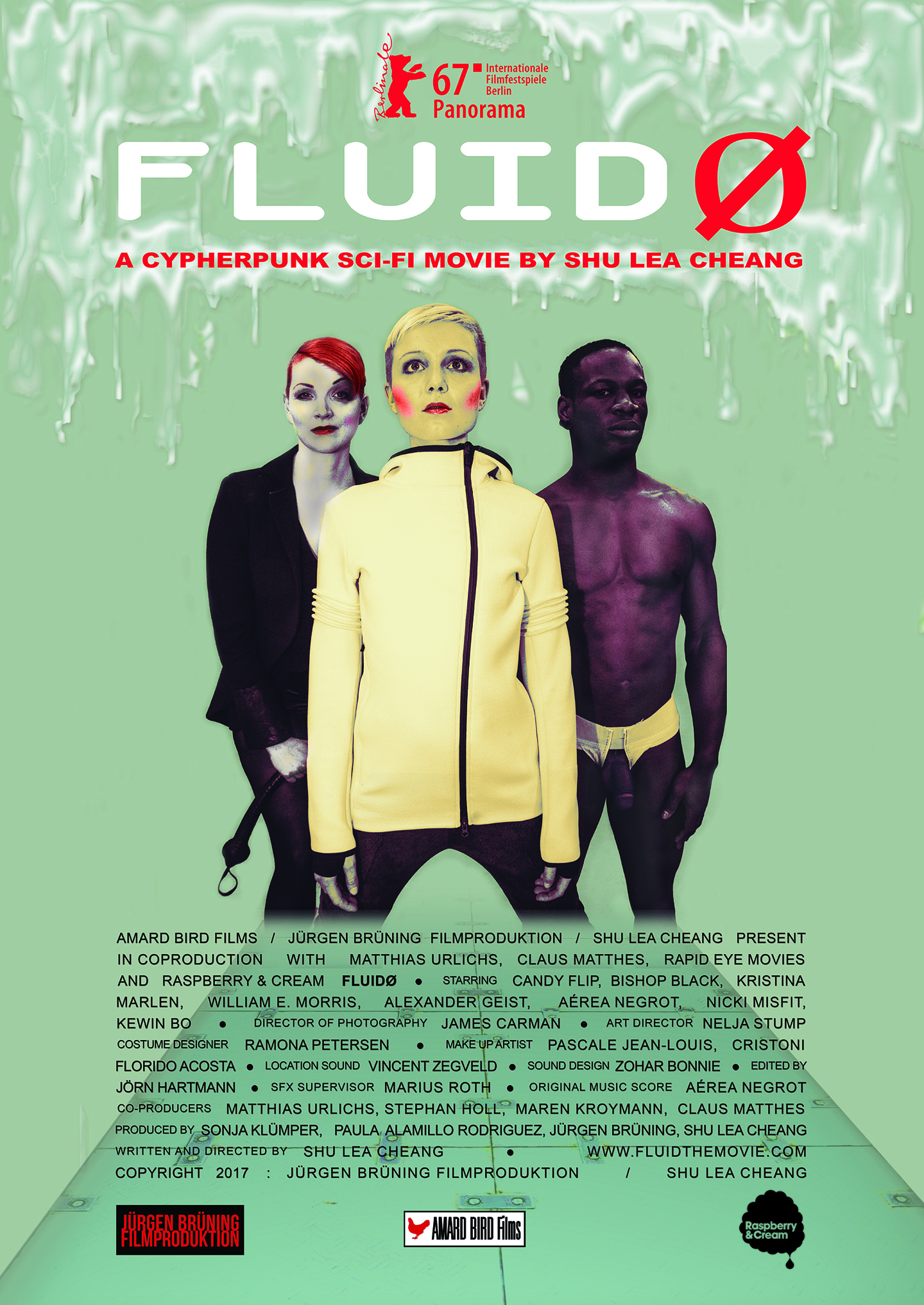 The Society of Friends of Lorenza Böttner invites you to the screening of the film FLUIDØ (2017) and a discussion with the artist and filmmaker Shu Lea Cheang.
ENTRY AGE 18 OR OVER
Set in the post-AIDS future of 2060, FLUIDØ is a transfeminist science-fiction film reflecting on the relationships between sexual politics, capitalism, and the management of the AIDS crisis. When the government is the first to declare the era AIDS free, mutated AIDS viruses give birth to ZERO GENs—humans that have genetically evolved in a very unique way. These gender-fluid ZERO GENs are bio-drug carriers whose white fluid is the hypernarcotic for the twenty-first century, taking over the white-powder highs of the twentieth century. The ejaculate of these beings is intoxicating and the new form of sexual commodity in the future. The new drug, code-named DELTA, diffuses through skin contact and creates an addictive high.

A new war on drugs begins and the ZERO GENs are declared illegal. The government dispatches drug-resistant replicants for round-up arrest missions. When one of these government android's immune systems breaks down and its pleasure centers are activated, the story becomes a tangled multi-thread plot and the ZERO GENs are caught among underground drug lords, glitched super agents, a scheming corporation, and a corrupt government.
FLUIDØ was produced by Shu Lea Cheang, Jürgen Brüning Filmproduktion, and AMARD BIRD Films.

Shu Lea Cheang is an artist, filmmaker, and networker. Cheang constructs networked installation and multi-player performances in participatory impromptu mode. She drafts sci-fi narratives in her film scenarios and artistic imagination. She builds social interfaces with transgressive plots and open networks that permit public participation. Involved in media activism for two decades (the 1980s and 90s) in New York city, Cheang concluded her NYC period with a cybernoia film FRESH KILL (1994) and the first Guggenheim museum web art commission/collection BRANDON (1998-1999). Since her relocation to the eurozone in 2000, she has taken up large-scale installations and collaborative, networked performances. From homesteading cyberspace in the 1990s to her current retreat to the post-crash BioNet zone, Cheang takes on viral love and bio hacking in her current cycle of works. In 2017, she released FLUIDØ at Berlinale Film Festival in Berlin and Wonders Wander for Madrid Pride 2017. She is currently developing Unborn0x9, an ultrasound hack performance, and UKI, cinema interrupted by mobile media.