"Oracle drawings" is a project initiated and curated by Sozita Goudouna and Paul B. Preciado. It consists of a collaborative staging of a public participatory installation by Karen Finley and Adonis Volanakis and an introductory ritual by Chrysanne Stathacos for The Parliament of Bodies, the Public Programs of documenta 14, and the specific context of Parko Eleftherias.
6–7 pm Chrysanne Stathacos (Pythia's Warm Breath)
Working with her text "Delphi, The Womb of the Eurotic World" and Par Lagerkvist's "The Sibyl," Chrysanne Stathacos creates a ritual of breathing, meditation and healing with herbs and essential oils that prepares the environment. The project draws from the feminist tradition and takes as a starting point Pythia's myth and the prophecy as a narrative that foretells the future but also forecloses or heals a certain past. What happens when the door is closed? What remains when our paths have to break apart?
7–9 pm Karen Finley and Adonis Volanakis
Prophecy Remains
The artists met in New York in 2012. They have worked together as teaching colleagues in the department of Art and Public Policy at Tisch, New York University. Their collaborative practice is orchestrating a participatory live installation of a threshold of an opening and a closure. They like to drink Greek coffee. Their long discussions expanded from stock-market economy, to commodities, community-engaging projects, humanity and daily life exchanges, to crossing boundaries and borders, libations, and self-help groups.
Their collaboration was inspired to create an opportunity for imagining and gathering rather than focusing on reliving and triggering trauma and torture that dwells within the haunted edifice of interrogation.
Outside in the public entranceway in the park and nature, the artists create a poetic space for prophecy and wakefulness. The area is draped with white gauze symbolizing the sacred wounded or the bandaging of the space. Loosely draping the trees provides a curtain or drapes that marks the witnessing by the trees and the ground itself— entering and leaving. Once inside our curtained or closed-off area, the public is offered a Greek coffee. The coffee is made and served to them at tables. After drinking the coffee the person is instructed in the tradition of Coffee Reading. Turning the cup over where the coffee is ground creates residue in which each person reads her own grounds and write her words. Each person then has his coffee-cup image video recorded with a voice-over of what they see in the future.
Karen and Adonis keep posing questions and challenging each other: How do you read your own prophecy and how is it asked and given? Where is the agency? What are we erasing? Whose funeral is it? What would you breathe life into?
What are the grounds for the future? How do we define the divine? What is the political moment, how do we make oracle drawings, when do we read the grounds? What are the parts of a social closure and an individual opening?
9–9:30 pm Roundtable discussion with the artists and Sozita Goudouna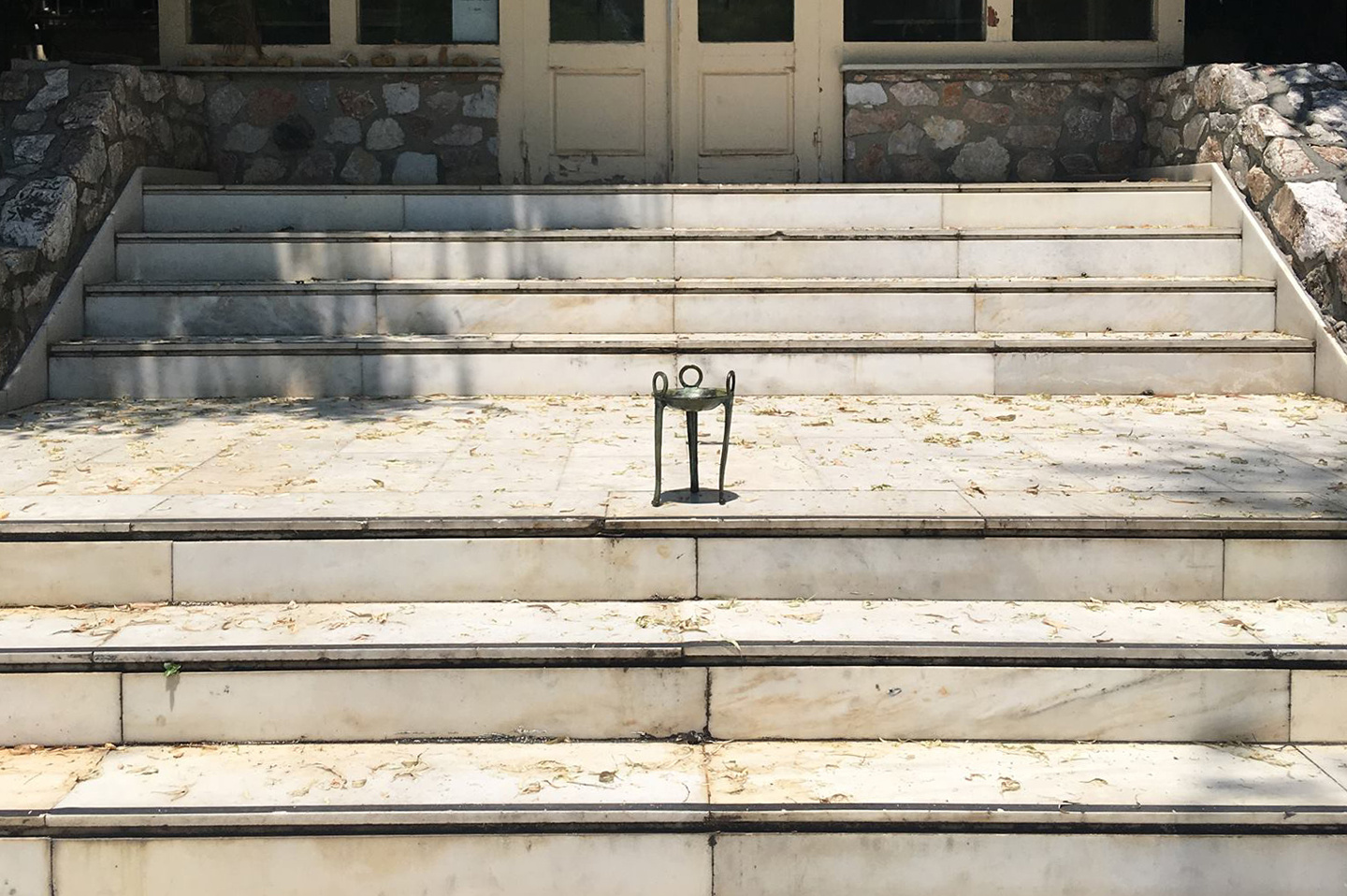 Karen Finley is a New York based multi-media artist. She has performed and exhibited internationally. The author of eight books, including the 25th anniversary edition of Shock Treatment (City Lights). A recipient of many awards and grants, including a Guggenheim Fellowship. Finley is an arts professor in Art and Public Policy at New York University.
Chrysanne Stathacos is a multi-media artist who has exhibited internationally at museums, galleries, and public venues for forty years. She is founding Director of Dongyu Gatsal Ling Initiatives and initiated Expanded Art Ideas, an innovative art education program at Artists Space, New York. Stathacos and collaborator Susan Silas originated MOMMY, a web site/distribution network that celebrates women artists. She lives between Toronto and Athens.
Sozita Goudouna is an academic who curates projects across mediums with a roster of acclaimed visual artists, performers and architects. She taught at New York University (2015-2016) as the inaugural Andrew W. Mellon Curatorial Fellow at Performa New York, the arts organisation dedicated to exploring the critical role of live performance. She holds a Ph.D from the University of London that is regarded as the first monographic survey on Beckett's Breath forthcoming by Edinburgh University Press and released in the US by Oxford University Press (Nov 2017).
Adonis Volanakis (1976) is an artist that is practicing and orchestrating blind dates during the last decade: a transdisciplinary, art research platform engaging communities and strangers. He has also created video participatory installations, performances and photographic series on non-patriarchal and non- hegemonic narratives. He teaches at Tisch/NYU and Athens Conservatoire.
In cooperation with the Goethe - Institute
With thanks to Performa NY, Panas Group Art Apartments, Apivita, MR.CO, Bar Etc and Ekso Productions