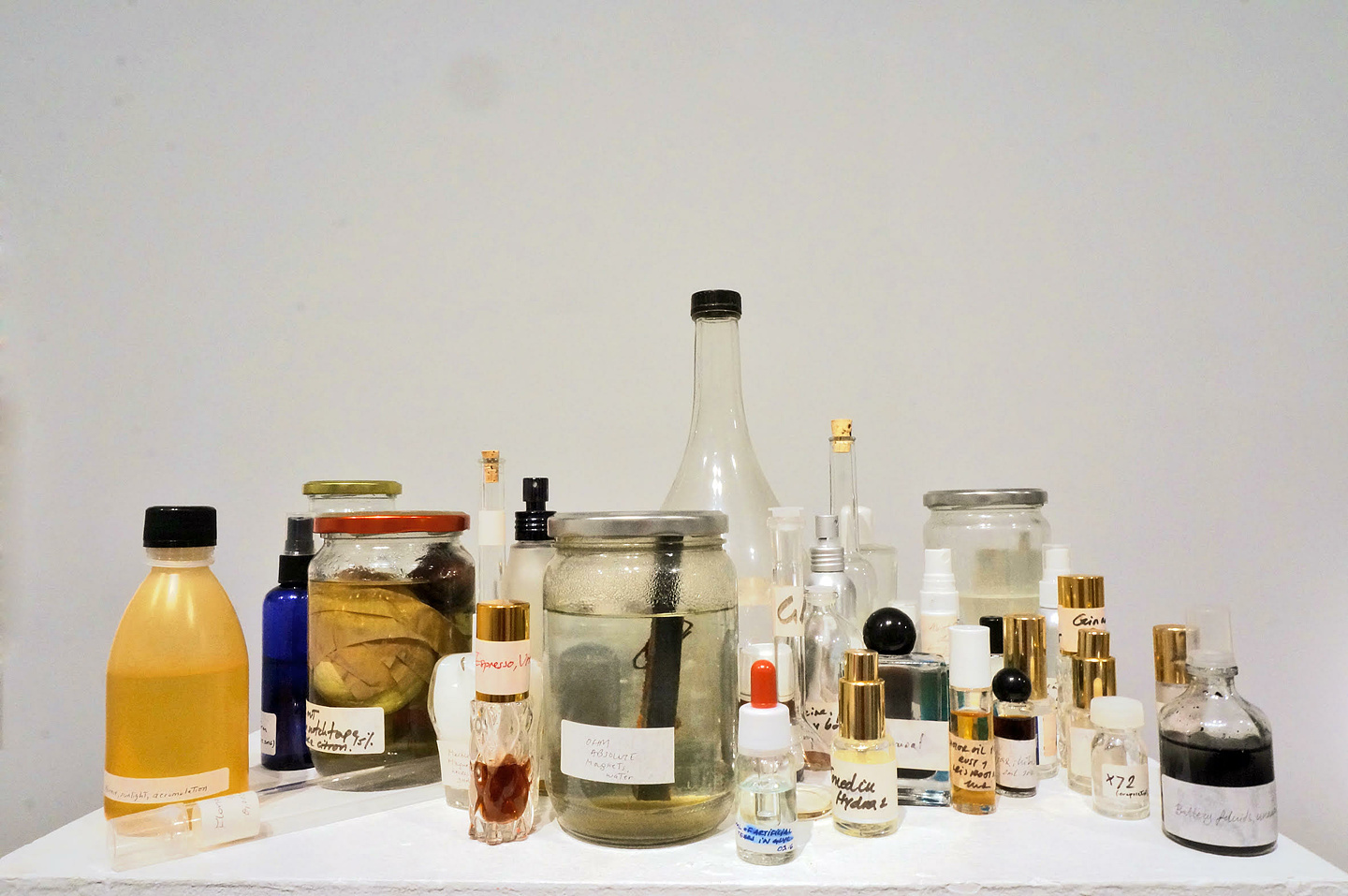 "I had sat under the scorching sun next to the booming traffic light on Alexandras avenue willfully withering in light of a recent break-up. I was about to meet Iris Touliatou at her home studio to talk about her upcoming talk at the laboratory. We'd already hosted a talk about ingestible earths and other talismans in the space. Now seemed like the right time, in the midst of a heat wave, to further contaminate the laboratory's "controlled" environment with untamed bodies.
Iris spoke to me about 5 chapters that would form the backbone to a presentation of work involving many senses. She would be bringing with her an archive, a personal collection, a research, a diary, a lexicon, or alternatively a body of work consisting of unorthodox distillations, perfumes, soaps and other forms of talismanic carriers of ethereal experience. Iris spoke about a collection of water (of bottling up distant storms) – of distilling fungi – Nasos Dafnis breeding peonies – her grandfather's gift of grafting trees – the first time she made a perfume in Morocco while not being able to see well – a soap that would carry the coinciding branded smell of hygiene from across three decades – a work that distilled within it two years of reading and writing (the self-reliant ink and paper autonomously colour-coding themselves overtime within the glass container) – Mexican healers and ingestible substances. These, Iris said, were not part of an olfactory practice or sphere of interest, but rather an attempt at collecting and preserving things and experiences that are otherwise invisible or momentary, and which remain solely within memory – a kind of ownership, control, aided visibility or more holistic understanding of what material (or the immaterial) can contain of us." —Maya Tounta
Of Accords marks the fourth event that takes place in Otobong Nkanga's laboratory installation in Athens, under the guise of a public program exploring the mentality of ritual in resource consumption. Carved to Flow encompasses performance, installation and enterprise to give thought to the networked geographies, traditions, histories and people that go into making a product. Centred on the idea of an artwork that is also a product, it seeks to create a model of circular production that can be sustained by its own output. Within the compass of documenta 14 the work assumes the medium of cold process soap, specifically a soap called O8 Black Stone, created according to an original recipe by the artist. Within it, 7 oils and butters from across the Mediterranean, Middle East, North and West Africa are fused; their prosperous odours and hues suffocated by the charcoal added last to the mixture. In Athens, it exists as a soap-making laboratory and host space for exchange. In Kassel, a stock of the soap arrives from Greece, to be stored, distributed and sold through performances in public space.

Iris Touliatou (b. 1981, in Athens, GR) engages in an interdisciplinary practice, composing and decomposing narratives, objects and bodies through subtle alchemical operations. Her work employs raw materials such as air, glass, rubber or seawater to aromatic compounds, fuels, plastics, and pharmaceutical goods, forming symbiotic relationships, formulas and interactions within natural and technological environments. She has received the FUTURE OF EUROPE award in 2012, the UNESCO ASCHBERG grant in 2014, and has been artist in residence in several international research programs (Casa Wabi Foundation, MX / Pavillon, Palais de Tokyo, FR ). Her work has been featured in solo and group exhibitions at the GFZK, Leipzig Museum of Contemporary Art, DE, Palais de Tokyo, Paris, FR, Centro de Arte Alcobendas, ES, Onassis Cultural Centre, Athens, GR, Kronika Gallery, Bytom, PL, Fondation Ricard , Paris, FR, La Galerie, Centre d'art contemporain, Noisy le Sec, FR, EMST, Museum of contemporary art, Athens, GR. She is currently based in Athens, GR.
Curated by Maya Tounta
Please note that there are multiple Archimidous streets in Athens. Ours is near Kallithea metro station in Moschato.