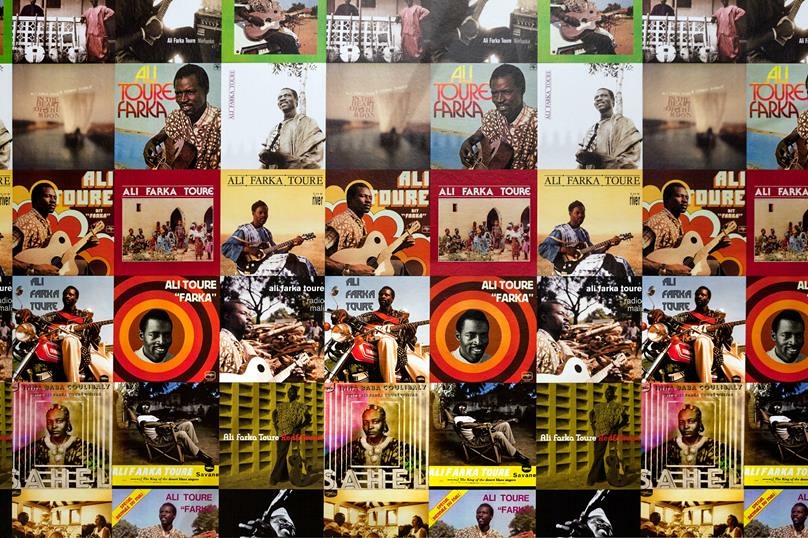 The Ali Farka Touré Band is the orchestra of the late Ali Farka Touré (1939–2006). The band is made up of musicians who have toured the world several times over, often sharing the stage with this legend of West African music culture. Committed to preserving the works of Touré, his musicians have joined forces to commemorate the work of the bluesman from Niafunké.
Ali Farka Touré was born in the village of Kanau on the Niger River in 1939. A short time later, his family moved to Niafunké near Timbuktu in Mali. Music took hold of him when he was only five years old. Having succumbed to a fever, it was the healers in Hombori that introduced him to the traditional monochord. Later, in 1956, he discovered the guitar in Bamako with the Guinean virtuoso Fodeba Keita. His experience was enriched by his extensive explorations of "roots" music thanks to the great Malian writer Amadou Hampaté Bâ. In 1960, after Mali gained independence, Ali Farka Touré became an ambulance driver for the hospital in Niafunké while simultaneously serving as the Orchestra Director of the National Broadcasting Radio in Mali until when he recorded his first unreleased tracks. Two of the seven records pressed for the Sonodisc label between 1973 and 1988 were released on CD in 2004 under the name Red & Green. In 1987, everything changed for Ali Farka Touré with the London-based label World Circuit and producer Nick Gold. In 1995 he received his first Grammy Award for the album Talking Timbuktu, which also features Ry Cooder, and his second and third together with Toumani Diabaté: in 2006 for the album "In the Heart of the Moon" and in 2011 for Ali and Toumani.
The concert, which is being held thanks to Afel Bocoum and the Ali Farka Touré Foundation, is the closing event of the program at Henschel-Hallen and is also a highlight of the project Studio Ali Farka Touré by Igo Diarra. The exhibition Proud and Well is on view at the documenta Halle as part of documenta 14. It consists of a gradually growing installation of the African musician's unpublished works as well as photos, awards, medals, and personal objects.
Musicians
Hamadoun Bocoum dit Afel (vocals)
Hamma Sankaré (calebasse and vocals)
Oumar Diallo (bass guitar and vocals)
Mahamoudou Kelly (guitar and vocals)
Aly Magassa (guitar and vocals)
Souleymane Kané (djembe and vocals)

Tickets: 10 € / 2 € with valid a documenta 14 ticket.
Tickets available at documenta 14 sales counters and at the entrance.