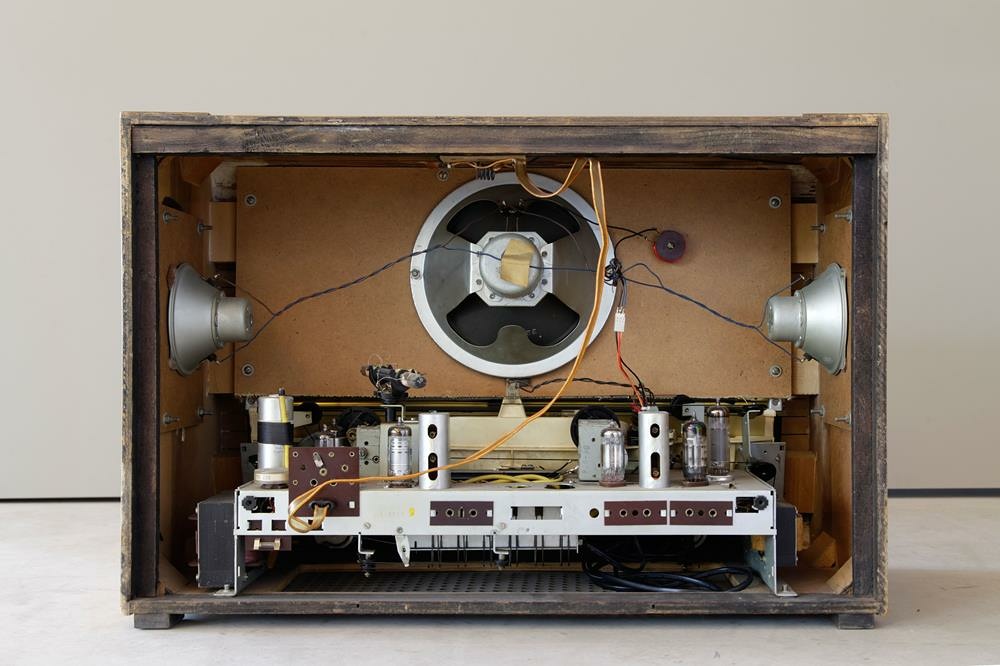 Within the framework of Every Time A Ear di Soun, documenta 14, Deutschlandfunk Kultur, and SAVVY Contemporary present SAVVY Funk, a radio project and open archive in the form of a reading and listening room as well as a series of "footnotes" by invited artists.
SAVVY Funk begins broadcasting at midnight on June 16, and remains on air until July 8 on FM 103.0 MHz in Berlin, FM 90.4 MHz in Kassel, SW 15560 kHz, and all over the world on documenta14.de.
Open Gallery and Radio Studio from June 17 to July 8, daily from 9 am–midnight, Plantagenstrasse 31, 13347 Berlin
Opening Party on June 17, 6 pm, SAVVY Contemporary at silent green Kulturquartier, Gerichtstrasse 35, 13347 Berlin
Live on stage: Adespotes Skyles, Satch Hoyt, AGF (Antye Greie-Ripatti), and Mista Wallizz

For twenty-two days, SAVVY Contemporary in Berlin will be transformed into a radio station, functioning as an open studio and platform where audio material is produced live and broadcast. SAVVY Funk, a 24/7 radio program and work of art, is a room for audio experimentation, new forms of participation, performativity, and epistemological diversity. As a project with a wide range of practices and languages, SAVVY Funk explores tonal and auditory phenomenon—voices, sounds, music, and speech—as media for writing counter-hegemonic histories; it also reflects on the potential for sound to create and organize psychic and physical spaces.

SAVVY Funk draws on the power of sound and radio to shape forms of knowledge and action. Inspired by Frantz Fanon and his understanding of radio as a medium of political struggle and resistance, as well as Rudolf Arnheim's call, explicitly to poets, to get "into the radio studio," the project has invited eighteen artists to design the radio program. The artists developed forms of collaboration with students from the Experimental Radio class at the Bauhaus-Universität Weimar, led by Professor Nathalie Singer and Martin Hirsch.
Bauhaus-Universität Weimar has also contributed an open archive with over 200 items, ranging from Singer's private collection (including important books, records, and historical objects dating from the early days of broadcasting and radio drama) to the digital archive for radio art EXPA, a project and exhibition series from the Bauhaus-Universität Weimar. Visitors are invited to browse through and listen to this collection of some 7,000 radio works spanning more than a century of radio and audio art history. Part of the sound archives for audio art EXPA includes SAVVY.doc, the open library from SAVVY Contemporary with rare publications and magazines as well as Colonial Neighbours, SAVVY Contemporary's permanent, radical, and participatory archive for German colonial history.
In addition to the radio program and the reading and listening room, a series of "footnotes" in the form of artworks, documents, video works, and audio pieces reflect on the power of listening and the poetic and political dimensions of sound. Besides the contributions from SAVVY Funk artists, Rui Vilela will present his research on the Guinea-Bissauan Rádio Libertação. Established during the Portuguese colonial occupation in 1967, it played a crucial role in the transmission of the ideas of the African Party for the Independence of Guinea and the Cape Verde (PAIGC), founded by Amícar Cabral.
These works, presented throughout the rooms of SAVVY Contemporary, are connected to the structure of the radio studio through a spatial intervention developed by Igor Eskinja. Visitors to SAVVY Funk are invited to delve into this multi-layered research material and experience radio in-the-making while becoming actors in an "imaginative partnership between practitioners and audience." (Seán Street, The Poetry of Radio: The Colour of Sound, New York: Routledge, 2012).

Participating Artists and Radio Presenters
AGF (Antye Greie-Ripatti), Leo Asemota, Gívan Belá, Alessandro Bosetti, Alberto de Campo, Igor Eskinja, Islands Songs (Silvia Ploner & Nicolas Perret), Tim Etchells, Abrie Fourie (Colonial Neighbours), Dani Gal and Achim Lengerer, Satch Hoyt, Felix Kubin, Brandon LaBelle and Anna Bromley, Missy Magazine (Gina D'Orio & Margarita Tsomou), Mobile Radio (Sarah Washington & Knut Aufermann), Nástio Mosquito, Ahmet Öğüt, reboot.fm (Diana McCarty & Pit Schultz), Natascha Sadr Haghighian and Nicholas Bussmann, Saout Radio (Anna Raimondo & Younes Baba-Ali), Rui Vilela, Tito Valery, James Webb
SAVVY Funk Team
Programmers and Curators: Bonaventure Soh Bejeng Ndikung, Marcus Gammel, Elena Agudio
Coordinators: Tina Klatte, Maximilian Netter
Curatorial Assistant: Sol Izquierdo de la Viña
Management: Lema Sikod
Management Assistant: Lynhan Balatbat
Experimental Radio at Bauhaus-Universität Weimar, Faculty of Art and Design:
Led by Prof. Nathalie Singer, Martin Hirsch
Radio Broadcasts:
Konrad Behr, Jennifer Fuchs, Jan Glöckner, Grit Lieder, Johann Mittmann, Janine Müller, Benjamin Serdani, Corinna Thamm, Josephine Tiede, Severin Schenkel, Andreas von Stosch, Markus Westphal
Display Design and Archival Research:
Anna Rupp, Rosa Süß, Rafael Brasil Sabino, Alejandro Weyler. From the EXPA Archive and the collection of Nathalie Singer
For more information please visit: www.documenta14.de/en/public-radio/13778/savvy-funk