In 1987 Martin Bernal published Black Athena: The Afroasiatic Roots of Classical Civilization putting forward a controversial thesis that tried to delink Greek history from the western narratives that emerged after the XVII century, and reclaiming African and Asian roots of Greek civilization. These series of debates take Bernal's title as an epistemic challenge in order to question the politically constructed distinctions between North and South, East and West.
This first debate gathers African philosopher Isaïe Nzeyimana, artist Christian Nyampeta and Ranabir Samaddar, director of the Calcutta Research Group, and The Apatride Society of the Political Others to speak about the impossibility for ideas to remain within "national" borders. At the end of the talks, a special gathering will take place with the Society of Friends of Ulises Carrión, at which the poet and musician Lena Platonos with Savina Yannatou and Stergios Tsirliagos perform few songs selected by Niki Giannari.
In cooperation with the Goethe Institute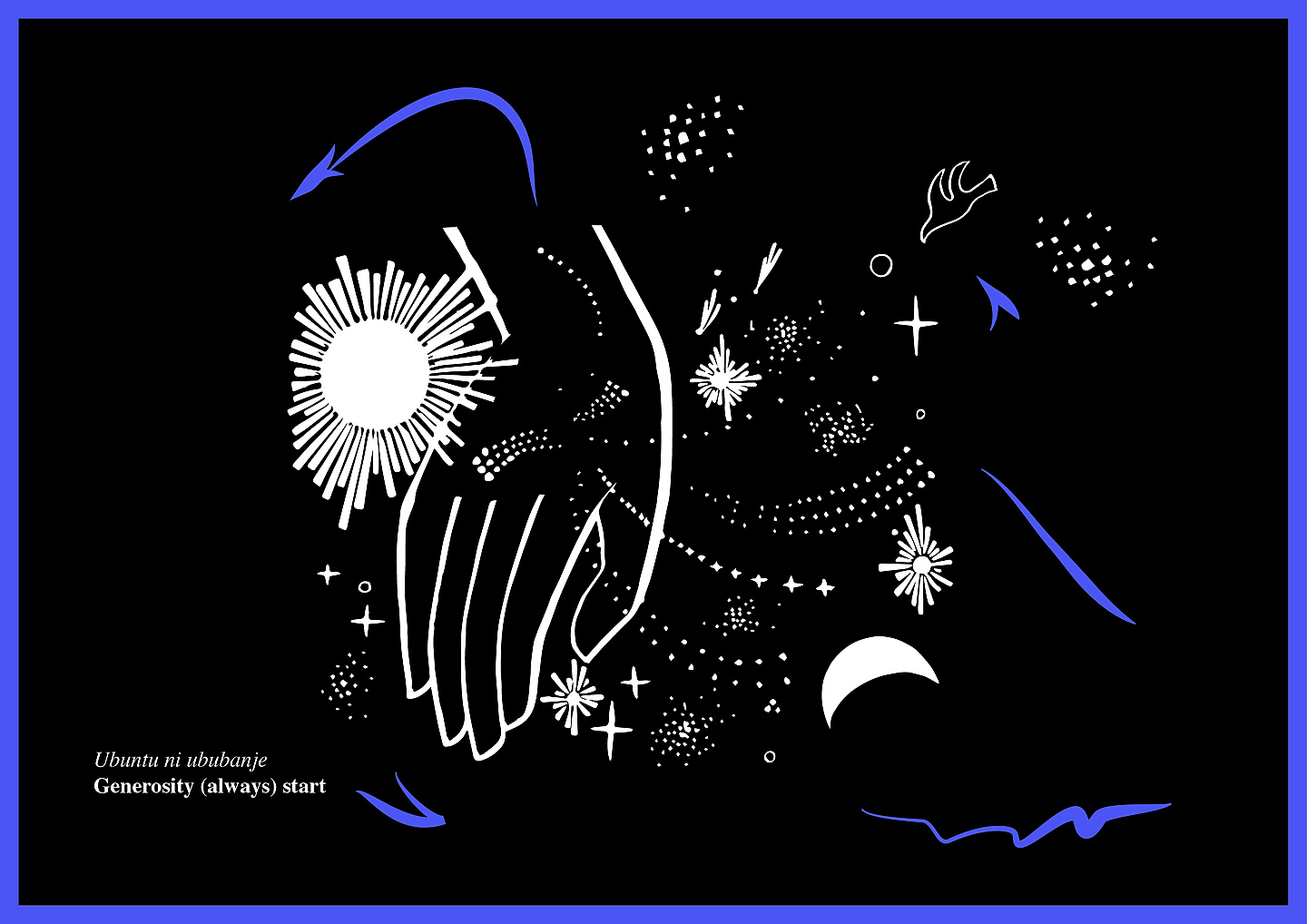 Black Athena Reloaded 1: Ideas as Migrants
Our Common Ghosts
Conceived as a two-hours-long live audio-visual working session in which philosopher Isaïe Nzeyimana engages in a historical and philological reading of the notions of ubuvandimwe (communality) and ubwenge (intellection) and outlines the associations of these notions with "Greek" conceptions of communality and intellection. Nzeyimana elaborates from his forthcoming volume, and provides case studies from the social contexts of his recent writing, and from the work of his students at Nile Polytechnic of Applied Arts in Huye, Rwanda.
Christian Nyampeta starts with a "Greek" concept of idiorrhythmy, its historical development through the life practices of the ascetics, nuns and monks of the Egyptian deserts, and its location on Mount Athos—aspects of which last to this day. By focusing on a separate treatment of the terms idios and rhuthmus, a new horizon of idios-rhythm emerges: a generous and inhabitable hosting structure. Once it is thus renamed, this intellectual structure resonates with concepts of ubwenge and ubuvandimwe, and inyana (rhythm), understood historically within animist practices.
This engagement with deep histories may contribute to the displacement of the violent modernist and colonial claims that erase and deny history to complexities of endogenous life practices, their visions, inhabitations and constructions of their bodies, their home and the world; their communality; and their relevance to the present. This engagement may also be an opening of knowledge making and learning which may converse with "Athens"—itself a flow of social ruptures and cultural mixtures. In so doing, these readings de-centre the West's claim of "Athens" as the only historical source for common concepts for imagining life. Rather, this engagement extends an invitation in habituating a sensitivity for the awakening of our common ghosts, in order to summon them for trial.
The talks will be held in French and English with simultaneous translation in Greek.

Isaïe Nzeyimana is a Rwandan philosopher. He is co-founder and lecturer at Nile Polytechnic of Applied Arts in Huye. Nzeyimana is also a lecturer at the National University of Rwanda in Butare and at the Grand Séminaire Philosophicum in Kabgayi. He is also the founder and director of the Association Rwandaise pour la Philosophie. His main philosophical contributions are in the field of education and political theory. His books are used as textbooks by Rwandan students in the humanities and social sciences. He recently completed a thesis that takes shape of a political and philosophical dialogue on the subject of the commons. He runs a philosophical café every first Thursday of the month in Kigali.
Christian Nyampeta is a Rwandan-born Dutch artist. He develops an artistic-philosophical inquiry, currently focusing on concepts of rhythms and harmonies from ancient Western asceticism and contemporary African/a philosophy. Together with collaborators, and through staging workshops and programs of art and design, Nyampeta's work creates spaces, times, fictions, models, dialogues and commentaries, concerned with the idea of communality and its discontents. Nyampeta convenes the Nyanza Working Group of Another Roadmap Africa Cluster. He runs Radius, an online and occasionally inhabitable radio station, and he is a PhD candidate in the Visual Cultures Department at Goldsmiths, University of London.